Salem manufacturer offers big-company products with small-company agility
LNX Corp.'s cutting-edge technology and low overhead have it poised for exponential growth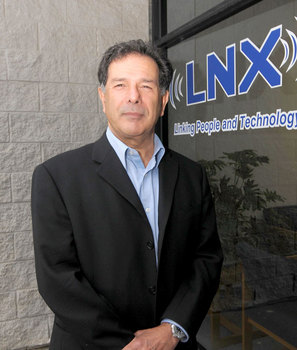 A decade ago, Lamberto Raffaelli was planning his retirement.
Today, he is the president and chief executive of LNX Corp., a 10-year-old company with 2010 revenue projected at $24 million.The company designs and manufactures sophisticated radio frequency, or RF, and digital integrated products for the defense industry.
LNX's roots began with another successful venture.
Raffaelli, an engineer and native of Italy, founded ARCOM Inc. in Massachusetts in 1995. That firm designed and manufactured commercial millimeter-wave communication products. After four successful years, ARCOM was sold in 1999 to Dover Corp., a large diversified manufacturer of specialty industrial systems."I thought I'd reached my objective," he said. "I was 49, and I was thinking about sailing, being financially independent and enjoying life."
But just a few months later — after speaking with colleagues and deciding he was too young to retire — Raffaelli decided to enter the business market once again, this time founding LNX in May 2001.
Thanks to demonstrated business success and knowing the right people in the market, "the company started to grow extremely fast," said Raffaelli.
By integrating RF and digital technology, LNX designs and manufactures complex subsystems for military and homeland security applications.
For example, LNX subsystems are integrated into electronic warfare systems, which are used on airborne platforms to detect radar signals from approaching missiles. Once the radar signal is detected, the system — with the help of the LNX components — jams the missile's radar signal so it falls off course. Similarly, LNX assemblies are also integral to systems that jam transmission signals for road-side bomb detonation.
"We decided, one, to obviously take advantage of the expertise we had developed before [at ARCOM], and then to add something new, which was this integration of RF and digital technology," says Raffaelli, "which we claim, that for a small company, is very unique."
Since its outset, LNX has grown from a small startup to a corporation that today employs 70 and is poised for future growth. Having worked with Citizens Bank with his first company, Raffaelli said he has formed a "very strong relationship" with the bank. The partnership, this time, resulted in a line of credit and sponsored reduced-interest loans at LNX's start-up.
LNX's staff — which Raffaelli calls his "Dream Team" — consists of RF and digital engineers, human resources professionals, a strong sales and marketing team as well as a group of manufacturers who build nearly all the company's products at its facility in Salem.
The 16,500-square-foot facility — which will soon grow to 24,000 square feet — is actually the former home of ARCOM.
Raffaelli acquired the assets of ARCOM in 2003 after Dover decided to sell it, and moved LNX into the facility. The plant is ISO certified and now houses full military screening and testing equipment.
"I think where our strength is, we can offer state-of-the-art technology — technology you only find in much larger companies — with the agility of a small organization," says Raffaelli. "For our customers, it means it's going to cost less and you can get it in a much shorter period of time."
The company's customers, who hail from around the globe and include BAE Systems in Nashua, Raytheon in Andover, Mass., EADS in Germany and Mitsubishi in Japan, are not the only ones profiting. Raffaelli expects LNX to close 2010 with $24 million in revenue, a significant increase even from 2009, when the corporation ended the year with $20.5 million in sales.
As America's involvement in the war in Iraq winds down, Raffaelli remains confident in the future success of LNX, thanks to a customer base extending from Japan to Italy to Turkey to Israel.
"When the customers come here, they understand that we are very committed," Raffaelli says. "The secret of our success is that our people understand that our customers will only come back if we deliver on time a superior product at a lower price."
Citizens Bank's In Good Company is presented in partnership with NHBR. The series spotlights growing New Hampshire businesses with unique stories to tell.