Salem biotech startup partners with PLUS Co.
Foxx Life Sciences hires adults with disabilities for cleanroom work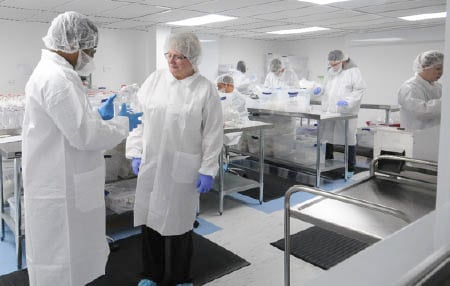 Foxx Life Sciences, a biotech startup in Salem, has found at least part of a solution to building a workforce.
The company, whose custom bag, carboy and bottle single-use assemblies are used by biopharma companies, has partnered with PLUS Company Inc., a Nashua nonprofit that serves adults with developmental disabilities and acquired brain injuries, offering customized home, life, education, and work supports.
The partnership resulted in Foxx hiring five adults with developmental disabilities to work in the Salem facility. The work they do includes assembling custom products in a cleanroom environment, where strict quality standards must be upheld at all times. And Thomas Taylor, the company's president and CEO, said the new employees are thriving in the environment, partly due to their keen insight into quality assurance and attention to detail.
In fact, he said, the five men and women have become valued assets to the company, making a positive impact on productivity, while keeping up with quality, engagement, dependability, and attendance – all qualities the rapidly growing company is looking for.
He added that the inclusive community work opportunity has fostered a culture of acceptance and that he hopes that it is jut the beginning of a long, fruitful relationship with PLUS Company.
"We are excited to partner with the PLUS Company to add more great employees to the Foxx team," he said.