Saab Nashua North pays attention to the details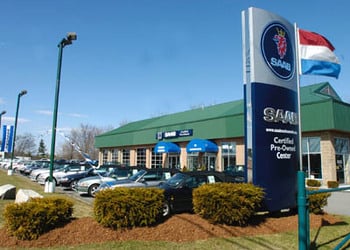 Saab Nashua North has been serving southern New Hampshire for 10 years, providing customers with luxury vehicles and unparalleled service.
You have a lot of choices for your luxury vehicle, but what sets Saab apart is its safety, performance and durability, in addition to the comfort and quality you expect from a luxury vehicle. "It's 'moose-proof,'" says Business Development Manager Shannan Thomas.
Saab Nashua North offers customers a level of service no other dealer does, including New Hampshire state inspections, loaner cars, pickup and delivery of your car for service, hand-wash and vacuum during each service, an anniversary clean and wax, trip/vacation inspections, restraint system check and a customer referral program up to $2,000.
Purchasing a vehicle at Saab Nashua North is a quick, easy and "pain-free" experience for the whole family. "We have a kid-friendly atmosphere," says Thomas, something not many car dealers can say.
The customer service of Saab Nashua North is only equaled by the technical service. You get the benefit of years of invaluable Saab experience, Saab factory training and highly competent, supremely skilled Saab technicians. Seven technicians have attained the universally respected industry benchmark of Saab Master Technician. Thomas explains, "We provide efficient, professional service, tailored to each individual customer." She also points out that a "service tip of the week" is available on their Web site, www.saabnashuanorth.com, and is updated regularly.
Customers in the market for a pre-owned vehicle will find Saab Nashua North has certified the quality of their pre-owned Saabs, offering a six-year or 100,000-mile Saab Warranty coverage from the original date of service.
Dealer principal Robert Lajoie says, "We are proud to offer you the lowest prices without compromising the quality of your experience. Scrupulous attention to cost control and detail enable us to pass savings directly to you. We make our investment in your expectations."
Visit Saab Nashua North at 293 Daniel Webster Highway in Merrimack, just off Exit 11 of Route 3, or call 429-300 or toll-free at 866-362-1860.