Rustic Crust to rise again with groundbreaking
Pizza crust maker's facility to re-emerge at Pittsfield site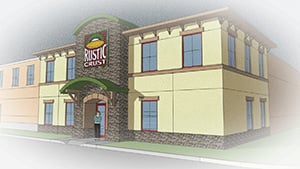 Some five months after a devastating fire destroyed the entire facility of Rustic Crust, the Pittsfield-based maker of pizza crusts and sauce, company officials will be breaking ground on Thursday at the same site for a new 27,000-square-foot building.
The two-story facility, 30 percent larger than the original structure, will be completed and operating later this fall, according to CEO Brad Sterl.
Project contractor is Mark Carrier Construction Inc. of Manchester. Design firms include the Canterbury-based architectural firm of John Jordan Design and Hillside Design Group of Merrimack.
Rustic Crust, which produces Rustic Crust ready-made pizza crusts and frozen American Flatbread pizza, has temporary production facilities in a 65,000 square-foot facility on Main Street that houses the company's offices and warehouse.
Sterl, who continued to pay employees as the company worked to resume operations, noted that the new facility will include state-of-the-art equipment, a second-floor storage area and other amenities.
"This will be a bigger, better plant, and we're excited to begin this newest chapter," he said.
The Aug. 14 event also will include presentation of the first Rustic Crust First Responders Recognition Award to the New Hampshire Police, Fire & EMS Foundation, a nonprofit whose goal is to provide financial aid and assistance quickly, efficiently and effectively to first responders in need. That assistance may include medical or other equipment not covered by insurance, housing assistance needed due to home fires, non-covered expenses relating to critical illness or injury, legal fees for a child under 18 after the death of a parent, and assistance with funeral expenses.
"We are launching this national campaign to recognize the extraordinary work of first responders – EMS, fire and police personnel who are committed to keeping our communities safe and come to the rescue in times of need," says Sterl. "As a result of our March fire, we know firsthand the courage and sacrifice displayed by these brave men and women every day."