RTM gives customers a business advantage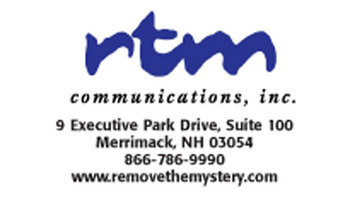 RTM stands for "Remove the Mystery," which is what company president Ray Benoit and his highly trained staff of engineers and technical support people do for more than 150 business customers — nearly all of them within 100 miles of RTM's corporate offices in Merrimack.
For RTM, it's all about their customers gaining a business advantage through higher performance and greater efficiencies within IT and telephone communications.
Many businesses are surprised, Benoit says, to discover how many of the challenges they face can be solved, in part, with a better use of their existing technology. Consolidation of servers is but one example.
"As companies grow over time, they tend to have many disparate servers, each of which requires different levels of attention and support," he says. With Microsoft and Hewlett-Packard solutions, RTM can replace many servers with a handful, making the operations more streamlined, less expensive, while giving a higher level of support to the users.
"If our customers are spending their time struggling with communications, then they aren't focusing on their core business," says Benoit.
RTM also applies Cisco Unified Communications to unify a workforce, enabling people separated by hundreds, even thousands, of miles to work together, as though they were in the same building.
"This increases productivity by the sharing of thoughts and ideas while also reducing costs by allowing your workforce to be distributed in less expensive areas of the country," Benoit says.
Benoit founded RTM in 1999 to meet what he saw as a growing need of IT users, both large and small. During its first year in business, RTM became Cisco, Microsoft and HP certified. Today its growing base of customers includes well-known television stations and national restaurant companies (see their video stories at removethemystery.com) in Boston, along with New Hampshire clients in manufacturing, rehabilitative hospitals, auto dealerships and K-12 schools, colleges and universities. RTM provides most of its service within a two-hour's drive of the company's Merrimack location.
"That's where our engineers can quickly and efficiently get to our clients," says Benoit. "We're not selling equipment and shipping it out to you. We go out to where you are and make sure it works the way you want it to."
The knowledge of RTM engineers and the experience the company has gained in solving problems for hundreds of companies are available to each and every client.
"You may be encountering for the first time a problem that we may have already solved four or five times this week," Benoit says. And RTM's network of relationships in the computer industry can save a client time as well as money. "Our customers don't want to spend three hours on the phone with a manufacturer trying to figure something out. They've got a business to run," Benoit says. "They can bring any question to us and if we don't have an immediate answer, we're able to find it very quickly."
With over 17 professionals ready to support clients, RTM truly provides "end-to-end, full lifecycle support." RTM is the organization to call when you want a solution and the talent to support it.
The NHBR Business Profiles section contains content provided by New Hampshire Business Review advertisers.