Rowley Agency's Church wins 21st Construction Industry Ethics Award
Insurance industry exec honored for 'honest, sincere style'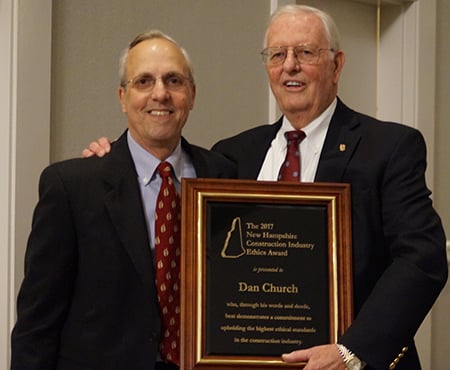 Dan Church, CEO of The Rowley Agency, Concord, has been presented with the 21st annual NH Construction Industry Ethics Award.
The award honors the "individual, business or organization that, through its words and deeds, best demonstrates a commitment to upholding the highest ethical standards in construction." Church was presented with the award at the 113th NH Good Roads Association annual meeting on April 6.
Church joined The Rowley Agency in 1970, and during his career he has worked in every phase of the business, with a concentration on bond programs for contractors.
"Dan is a master of making the right way of doing business simple: treat people fairly, always keep your word, and if you make a mistake, own up to it," said Rusty Mosca, managing director of CPA firm Nathan Wechsler & Co. "He is never afraid of dealing with the difficult issues head-on with the surety company and his clients, and this honest, sincere style has made him the most respected insurance bonding agent in the state of New Hampshire."
"Dan is the gold standard by which service-based individuals should operate," said Ryan Audley, CEO of R.S. Audley Inc. "He is more concerned with people and the long-term success and health of the establishments he represents than the short-term bottom line."
Church has been an active member of Associated General Contractors of New Hampshire (for more than 40 years, and in 1993 became one of only three non-general contractor presidents in the 68-year history of the association. He is also a past president of he NH Good Roads Association and a recipient of the group's Honor Road Award for his work encouraging the development of a safe, efficient and environmentally-sound New Hampshire highway transportation system. In addition,
In addition to a plaque, the award carries with it a $1,000 donation to the recipient's charity of choice. Church has requested that the donation be given to The Hundred Club of New Hampshire, which provides financial and moral support to the widows, widowers and children of New Hampshire police and firefighters.