Rock-Off 2004 launches Teen Council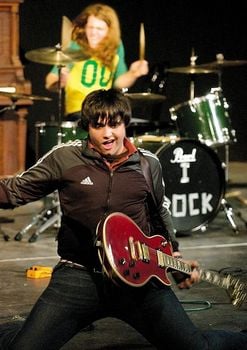 MILFORD – Dozens of teenagers from throughout the region hanging around the center of Milford: It must be the Oval and it must be trouble, right?
Nope. It's the PAC at the BGCSV, and it's actually a blast.
"Yeah, I'm excited about it," said Brian Maloney of the group Andrew & Me, which features the classic rock lineup: guitar, bass, drums and as much volume as possible. "This will be the first time we've played together in front of a crowd."
The crowd is expected tonight at what is now the Performing Arts Center at the Boys & Girls Club of Souhegan Valley, but most people still think of as the former American Stage Festival theater.
Andrew & Me, which kicked off Thursday night's rehearsal, is one of seven local groups that will take the stage for the Rock-Off 2004, a battle-of-the-bands event that will launch the Souhegan Valley Teen Council in high-profile and high-decibel fashion.
Not a moment too soon, many say.
"No one around here has anything to do. . . . This is so needed," said Izzy Buckner, 15, of Hollis, who described her role in the Rock-Off as being "like a roadie."
"There's not a lot to do around here," agreed Adam Lubitz, 17, of Milford. "It's great to have somewhere to go other than hanging out on the Oval."
That's the sentiment that led Milford resident Alan Woolfson to propose a teen council last year. The idea fit perfectly with the Souhegan Valley Boys & Girls Club, which has audacious plans to turn the former ASF building into a state-of-the-art regional center for kids, and the Rock-Off was born.
The Rock-Off, like the Teen Council, is organized and run by teens themselves, which may explain the informal tone of the official program such as is found in this note: "Make sure you VOTE. Make sure your parents VOTE. Sorry, your parakeet cannot vote, but may be able to run for governor."
Among the teen jobs is the Karma Patrol, responsible for everything from making sure nobody lights up (cigarettes, drugs and drinking are strictly prohibited) to warning folks away from the poison ivy that lines the banks of the driveway.
"For the most part, kids have been making the decisions," said Lubitz, a senior, who heads the Karma Patrol. "We've got a pretty strong bunch of kids here. Not everybody jumps up out of their seat to help . . . but we're doing well."
The council also has hired four police officers, two fire officials and two ambulance workers to be on hand during the show, which runs from 5:30-10:30 p.m.
While Lubitz is in charge out front, Jess d'Arbonne, 17, of Brookline works as stage manager, a job she has done for rock shows at Hollis/Brookline High School. Such experience can pay off.
"Some people didn't think we needed a rehearsal. I said, 'Yes, we do,'" she recalled Thursday during a short interview shoehorned in among an almost constant stream of requests for her attention.
"This is pretty wild – everything is so up in the air," d'Arbonne said of the concert. "It's going to be very interesting."
D'Arbonne will get a double dose of Rock-Off, since she is also part of the Cindy Loo Whos, an all-girl ensemble named after a character in "How the Grinch Stole Christmas."
Teens are the show's public face, but there are plenty of grownups lurking in the background, including Mac McIlvaine of Brookline, who will be operating the sound system, just as he does for the Milford Area Players theater group.
"They both (theater and rock shows) have their technical difficulties, but they're very different difficulties," he said.
One difficulty is that the stage is built over an orchestra pit, which means it is hollow and acts like a giant sounding board, turning bass lines into booming mud. Fortunately, McIlvaine said, sound equipment and expertise is being donated by Studio.Metronome, a Brookline music-production facility.
As for other adult involvement, Woolfson remains the idea's spiritual leader, and said Thursday he was delighted at how well things seem to be going.
But he also had more practical concerns.
"I've got to go and power up the port-a-potties," he noted.
David Brooks can be reached at 594-5831 or brooksd@telegraph-nh.com
IF YOU GO
WHAT: Rock-Off 2004, featuring performances by guest bands Evertone from Massachusetts, Imprint and KnuckleDown from Rhode Island and Last Days Awakening from Nashua, as well as seven Souhegan Valley bands.
WHERE: Performing Arts Center at the Boys & Girls Club of Souhegan Valley (former American Stage Festival theater), Route 13 North, Milford. Entrance is next to Milford Lumber, with extra parking available nearby.
WHEN: Today from 5:30-10:30 p.m.
COST: $6.
MORE INFORMATION: www.svteens.org.