Rochester, Waterstone ink Granite Ridge Marketplace deal
Project to be built in newly formed TIF district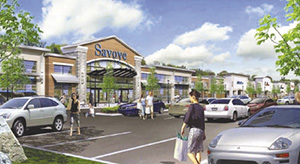 The city of Rochester and Waterstone Retail have signed a development agreement for the Granite Ridge Marketplace retail center, to be built in the recently designated Granite Ridge tax increment finance district on Route 11 in Rochester.
The development will include 300,000 square feet of retail space, including a 12-screen stadium cinema and a number of retail anchor stores.
"Granite Ridge Marketplace is an excellent example of a city working in partnership with private interests to fuel change and growth for the region," said Rochester City Manager Daniel Fitzpatrick who, with Economic Development Manager Karen Pollard, represented the city at the signing. Josh Levy, a founding principal of Waterstone Retail, represented the developer.
The development agreement comes on the heels of the city establishing the 913-acre Granite Ridge Development District in June as a TIF district.
The city is expected to invest $20 million in infrastructure developments, including road, water and sewer improvements to the area, over the next 20 years. In exchange, the city will be on track to bring in more than $200 million in private investment.
Initially, the city expects to begin construction on a $5 million road and utility project at the site in March 2015 funded by a bond, an investment that will be paid back with TIF revenues. That project is due to be complete in late 2015.
Rochester Economic Development Manager Karen Pollard noted that this is the second time in recent years that the city has employed TIF financing – the first was for a new road to the site at Granite State Business Park that is now home to the Safran-Albany International co-manufacturing facility.
"TIFs are an effective tool for cities to make essential investments without increasing taxes – investments that in turn bring jobs and other social and economic development benefits to the city," said Pollard. In addition to new jobs, the Waterstone development agreement includes creation of a 45-acre conservation area that will be managed as forestlands and will retain significant green space for the community.
Needham Heights, Mass.-based Waterstone Retail has developed several shopping centers in the Northeast and mid-Atlantic, including Brickyard Square in Epping Southgate in Portsmouth, Carver Marketplace in Carver, Mass., Kittery Outlet Center in Kittery, Maine, and Converse Plaza in Spartanburg, S.C.