Rivier programs offer skills and opportunities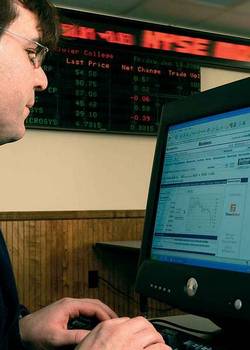 In today's competitive business market, it takes a combination of real-world skills and education to get ahead. Designed for working professionals, the accelerated business and professional communications degree programs at Rivier College offer the same high-quality instruction as its traditional programs but have been Web-enhanced for greater flexibility.
"Our accelerated business programs began in January of 2005 and have proven a tremendous success," says Karen Cooper, director of college relations. "Our Division of Academic Outreach developed programs that would not only meet the needs of working professionals, but would keep the quality courses, instructors, and curriculum that the college is so well-known for in the region."
Through the accelerated business program, an individual can earn an MBA in 20 months, start a bachelor's degree from the beginning at an accelerated pace, or transfer up to 78 credits and earn a bachelor's in as little as 18 months. And, understanding that electronic communication has quickly become as important as face-to-face meetings, accelerated business classes are offered in a hybrid format, making use of both on-campus instruction and online learning.
Business classes meet on campus once a week for five, six or eight weeks and incorporate a variety of learning activities, including case studies, teamwork and an experience-based approach. Courses utilize Blackboard, a state-of-the-art course management system, to enhance classroom learning and allow the instructor and students to communicate outside of the classroom.
Rivier's professional communications program – which begins in the fall of 2006 – is an ideal choice for those already working in or looking to enter the workplace as a communications professional. Students may choose from a bachelor's degree or from three certificate programs specifically designed for adult learners with previous work experience. Eight-week evening courses will stress hands-on learning in the college's various graphic design and computer labs, allowing students to work with industry professionals in sharpening their writing and graphic design skills.
"Job opportunities for communications professionals are expected to have significant growth in the next several years," says Cooper. "Professionals with solid verbal and written communications skills will have unlimited opportunities for professional growth."
Students will be prepared for careers in a variety of profit and not-for-profit organizations, including marketing and advertising agencies, public relations firms, newspapers, magazines, publishing companies and radio and television stations.
Rivier College offers more than 60 associate, bachelor's and master's degrees in business, education, communications, computer science, psychology and nursing, among others. Rivier's next information session will be presented at 6 p.m. Thursday, May 4. For more information, contact 603-897-8219 or visit www.rivier.edu.