Rivier grads eye economy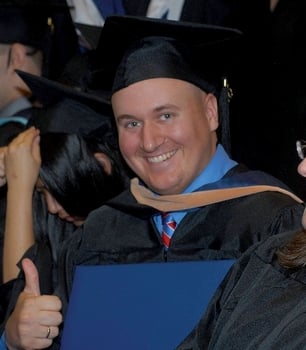 LOWELL, Mass. – Ray Turano knows how to market a business, but first he's going to have to work on marketing himself.
"I've got a few tricks up my sleeve when it comes to interviews," said Turano, who graduated from Rivier College on Saturday with a bachelor's degree in business marketing.
Like most of the other 636 students who earned their degrees, Turano doesn't have much time to bask in the glow of his accomplishment.
The Norfolk, Mass., native said he'd be spending this week working on his resume and hitting the job market.
Turano said the key would be to show potential employers what he can bring to their businesses and how he can help improve the company. Given the economic climate, Turano said he knows it will be challenging.
"You can't let it get you down," he said. "You've to keep believing that anything is possible."
Rivier College held its commencement ceremony at Tsongas Arena in Lowell on Saturday morning, a change from previous years, when it was held on the Nashua campus.
Fritz Wetherbee, co-host of WMUR-TV's "New Hampshire Chronicle," gave the commencement speech.
Much in the way Wetherbee tells stories of years past in the Granite State on his show, he used his speech to recall the inception of the college in 1933 in the heart of the Great Depression.
Wetherbee was born in Nashua in 1936, and he said, "Rivier and I in effect grew up together."
Wetherbee reassured students that although they're graduating in these uncertain economic times, "I have no doubt you're going to be OK."
Dr. Ralph Wolf, a Nashua physician, was given an honorary degree by the college for his work providing medical care in Ethiopia and sponsoring Ethiopian exchange students, some of whom studied at Rivier.
In 2005, Wolf and his wife, Barbara, established the Laura's World Fund in memory of their 17-year-old daughter, who was killed in a car accident in 2004. The fund has raised money to build playgrounds in Ethiopia, among other things.
Sarah Francis, one of the student speakers, told her fellow graduates their hard work had finally paid off.
"Look at us," she said. "We're sitting here in our caps and gowns waiting to receive our well-earned degrees."
After the ceremony, graduates met with their families outside the arena.
Amanda Landry, of Hudson, hugged her mom, Brenda, outside the arena. Landry, an Alvirne High School graduate, studied psychology and is hoping to land a job at the Hunt Community in Nashua. She volunteered there while going to college.
Landry said she's concerned about finding a job when so many people are already out of work. She hopes to go back and get her master's degree at some point.
For now, she plans to spend this week job hunting. Landry said she would be living at home until she's able to support herself.
Leah Nye, 22, earned her associate's degree in nursing and will continue her education next year to complete her bachelor's degree. Nye has been job hunting since March, and she aid the job market is thin for nurses.
"They're not hiring any new graduates right now," she said.
Nye said she knows she has to work on setting herself apart from all of the other nursing gradates looking for work. That means honing her interview skills, she said.
"You've got to put on the charm," she said, laughing.
Shannon Callahan, 22, is a Lowell, Mass., native who graduated Saturday at the same place her high school graduation was held. Now equipped with a degree in biology, Callahan is hoping to land a job with the Massachusetts Environmental Protection Agency.
She already has a foot in the door, having interned with the state EPA.
"I'm hoping that something will open up," she said, adding that her goal is to find full-time work by the end of the summer.
Turano said he has been able to secure an interview with insurance company MetLife, aided by some of the connections his dad has.
If that doesn't work out, he's still planning to devote as much time as it takes to finding a job.