Rivier business programs emphasize the 'real world'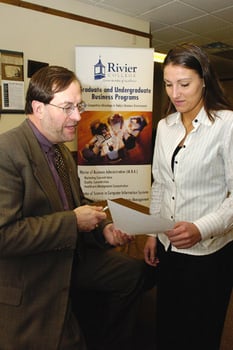 The Department of Business Administration at Rivier College in Nashua offers 'real-world' programs taught by business leaders with a focus on practical experience.
Rivier offers three undergraduate business degrees in Business Administration, Information Technology Management and Management.
For working professionals seeking to advance their careers, Rivier also offers four MBA degrees in Marketing, Quality Management, Healthcare Management and Business Administration as well as Masters of Science degrees in Computer Information Systems and Human Resources.
At Rivier, all MBA courses are taught by professors with solid academic credentials in their field who are recognized business leaders, and use a case-study approach.
Rivier MBA programs are designed specifically for full-time working professionals with evening and weekend classes. Course selection allows for a very individualized educational experience built on core courses giving solid business fundamentals and individual electives. About 80 percent of Rivier MBA students are employed full-time and are working on their degrees part-time. Most students complete their MBAs in 18 to 20 months.
Students receive personal attention from their instructors, enhancing their educational experience. Class sizes average 12 students, allowing faculty members to know each and every student and to be their mentors for meeting their educational and career advancement goals.
'All business programs include 'real-world' in-class projects and student internships with local businesses,' says Department Chair Eric Drouart.
These projects provide students with solid skills they can bring to the business world after graduation. And Rivier has something few other college business departments can offer Ð the presence of the Nashua regional office of the New Hampshire Small Business Development Center on the campus.
'We have students working through the SBDC to help local businesses grow. It's been a very rewarding partnership,' said Dr. Kevin Wayne, Rivier assistant professor of business administration. He described the hands-on projects in reference to Rivier's Business Administration Department and MBA program: 'Our students are more engaged when they can apply concepts learned in the classroom to tackle real business challenges.'
For more information about Rivier College-Department of Business Administration programs, call Eric Drouart at 897-8237 or visit www.rivier.edu/academics/business_administration.