Rivier breaks ground on new Science and Innovation Center
Hutter Construction to build 35,000-square-foot facility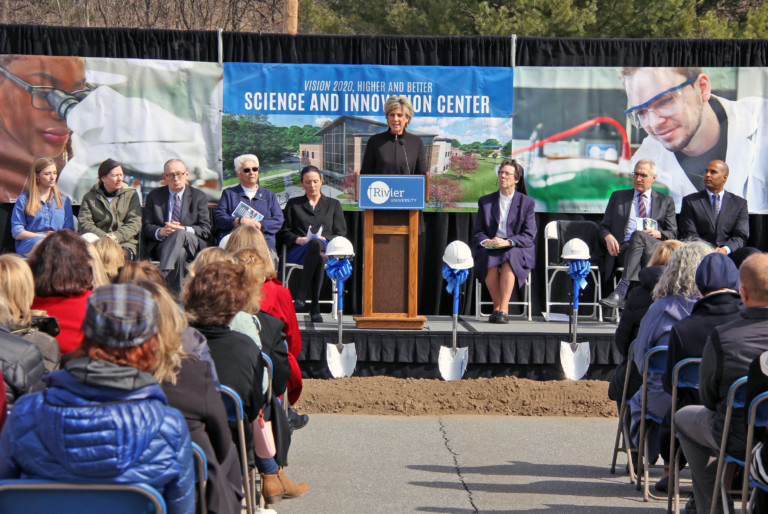 Rivier University has broken ground for a 35,000-square-foot Science and Innovation Center, designed to boost the university's life sciences offerings.
Hutter Construction of New Ipswich is the general contractor and Pennsylvania-based Derck and Edson is the architect.
"All of our dreams and expectations can be joined in the belief that the Science and Innovation Center will provide opportunities to harness one of the great gifts of humanity – the power of curiosity to seek, to discover, to create, and to expand knowledge," said Sister Paula Marie Buley, IHM, Rivier's president. "This is no small task in today's world to seek the truth, to apply evidenced-based theory, to harness science, and solve problems in the service of true human freedom and advancement."
Nashua Mayor Jim Donchess said the facility "will expand Rivier's contributions to the life sciences workforce in Nashua and throughout New Hampshire. This support of workforce development, which is desperately needed, will add to the significant contributions that Rivier makes every year to our nursing workforce by educating the largest number of nurses throughout New Hampshire."
Construction of the facility follows projects already in progress — a new athletics pavilion and updates to Raider Diamond. Completion of the Athletics Pavilion is slated for fall 2019, and the Science and Innovation Center is expected to open in fall 2020.