RiverWoods Durham sells out in six weeks
Achievement smashes usual sales record for retirement communities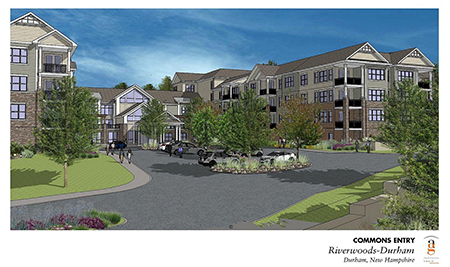 In just six weeks, 100 percent of the homes being built at the new continuing care retirement community RiverWoods Durham have been presold, its parent company has announced.
RiverWoods Durham is an affiliate of the nonprofit The RiverWoods Group, which also owns RiverWoods Exeter and Birch Hill in Manchester.
Typical sales for similar new continuing care communities average 12 per month, said Keith Robertson, managing director at Ziegler, a privately held investment bank, said. "In my 22 years working with CCRCs (continuing care retirement communities), I have never witnessed such high demand for a community. Reaching 100 percent presales in six weeks is something I've never seen. Everything about this project is exciting and it's thrilling to be a part of it.
Similarly, John Spooner, co-CEO of Greystone, a developer and consultant on CCRCs, said the sales milestone was "a remarkable accomplishment to reach 100 percent presales in just six weeks."
Groundbreaking for RiverWoods Durham is expected this summer, with construction scheduled for completion in early 2020. The project will include 150 independent living homes with a 72-unit attached health center that provides assisted living, memory care and skilled nursing care.