RiverWoods celebrates 20th with multimillion-dollar investment
March 26 Contractors' Open House set for those interested in working on the project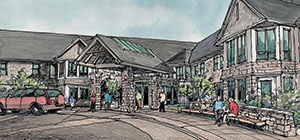 Twenty years ago, RiverWoods was simply the dream of a handful of Seacoast area residents, who imagined a new way to retire – within a community that provided care and friendship as you age.
The small group, spearheaded by Maryanna Hatch and Rosemary Coffin, worked hard to get the initial investment. It took 10 years, but they finally found a partner, and broke ground on a piece of land in Exeter.
Today, their concept has succeeded far beyond their expectations. RiverWoods has expanded to include three campuses on 200 acres in Exeter, and is home to more than 620 residents and 430 staff.
In celebration of the 20th anniversary, RiverWoods is committing $7 million in capital funds, earmarked for refurbishing the Woods campus. The funds will be used to enhance the front entrance, relocate and redesign the café area, enhance the art studios and music room and update the colors and furnishings. Construction will begin this spring, said Kathleen LaFave, resident services director of The Woods campus.
"Our new investment will reinvigorate The Woods campus, " said LaFave. " We are brightening our community, and making the warmth and activity of this campus more visible the minute you walk in."
The project will be overseen by LeCesse Construction of New York, which was general contractor for RiverWoods' last two construction projects — the Ridge and the Boulders campuses, where at least 75% of the contractors were drawn from the local area.
A Contractors' Open House for anyone interested in the project will be held Wednesday, March 26, at RiverWoods, with two sessions – one in the afternoon and one in the evening. All trades are invited to attend to learn more about the project and the scope.
For more information, contact Jeanne Wild at 603-658-3049 or jwild@riverwoodsrc.org.