RiverStone Resources, LLC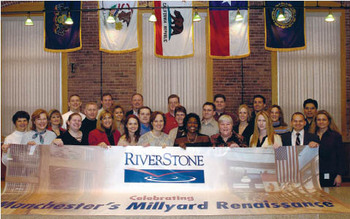 RiverStone Resources, LLC located in the historic Millyard of Manchester, is an insurance industry leader, comprised of several individual business units that provide services on a global scale.
Specializing in insurance claims management, reinsurance and other related consulting services, RiverStone's seasoned industry professionals provide strategic resolution of financial and operational problems for its parent company, Toronto-based Fairfax Financial Holdings Limited, one of the largest insurance holding companies in the world.
The management and staff of RiverStone take their commitment to the community as seriously as they do the insurance industry. The company is dedicated to being an excellent corporate citizen and has made contributions to nearly 70 New Hampshire charitable, non profit and educational institutions.
In January 2004, the company once again sponsored the hockey game between the University of New Hampshire and Dartmouth College at the Verizon Wireless Arena. At game's end, RiverStone awarded the trophy to the winner.
RiverStone was also the lead sponsor of the 2004 Winter Wine Spectacular for Easter Seals, held in January as well. This event featured dozens of wines from around the world, paired with cuisine from the state's top chefs. Over 800 people attended the event which raised $50,000 for Easter Seals.
"We are also one of the larger contributors to the Palace Theatre in Manchester," said Bob Warren, RiverStone's Sr. VP of administration. He also said the company has strongly supported building a river walk in the city along the Merrimack River. Senior management at RiverStone is represented on various cultural, non profit and charitable boards throughout New Hampshire, including the Juvenile Diabetes Research Foundation-NH Branch, the Currier Museum of Art, the New Hampshire Symphony and the Animal Rescue League of New Hampshire.
RiverStone employees serve our country on active duty as members of the NH Army and Air National Guard. Last year, Dennis Gibbs, CEO and President of RiverStone, was honored by the United States Department of Defense for his support of the military and his continued commitment to RiverStone employees who serve in our armed forces.
RiverStone Resources, LLC is not affiliated with Riverstone Networks, a data network switching and routing manufacturer based in Santa Clara, CA.