River Valley Community College utilizes simulation lab for hands-on training
RVCC plans to expand the lab to include birthing and neonatal intensive care unit scenarios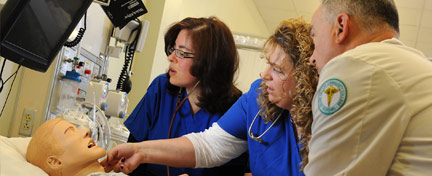 To provide additional experience for students studying in the medical field, River Valley Community College has opened a new Clinical Simulation Lab, where instructors can create realistic patient care scenarios and observe how students respond to a wide range of symptoms and external factors.
In the lab, instructors and facilitators can run countless medical scenarios, ranging from a man experiencing a heart attack to undiagnosed ailment in an infant, and observe how students respond to the patient's changing vital signs. With cameras running, students must work together to make decisions, evaluate demographic and symptomatic data, and ultimately, recommend the most appropriate plan of action. Every simulation is followed by a debrief afterward where instructors and students discuss the experience.
"The new Clinical Simulation Lab is an important tool to help students grow professionally, gain key skills, and learn to work as an interdisciplinary team in a healthcare setting," said Ken Czehowizc, MS, RRT, director of clinical education for respiratory therapy at RVCC, and a registered respiratory therapist for the last 36 years. "We work collaboratively along with our other RVCC allied health programs to deliver realistic patient centric care scenarios, which our students may encounter within a variety of challenging healthcare settings."
Programs with access to the new lab include respiratory therapy, physical therapy assistant program, occupational therapy and nursing. The lab is the only one of its kind in New Hampshire expressly for student use, emerging as RVCC aligns its systems and facilities to deliver on the promise of creating an excellent teaching and learning environment and providing exemplary training for the state's future health care workforce.
"At RVCC, the Nursing and Respiratory Therapy Department has focused on evidence-based collaborative learning and we incorporate best practice models of healthcare delivery in both our classroom as well as in our simulation labs," said Czehowizc, who is the project lead for the Clinical Simulation Lab along with Denise Ruby, department chair of nursing and respiratory at RVCC. "It's designed to prepare future healthcare providers, reduce or prevent medical errors, and give hands-on training before they're faced with these situations in real life."
With $250,000 in state funding, RVCC plans to expand the simulation lab to include birthing and neonatal intensive care unit (NICU) scenarios. The simulated "patient" can either be a live man, woman or child actor, or a mannequin, depending on the situation.
RVCC has clinical affiliations with health care centers across the state, including Catholic Medical Center and Elliot Hospital in Manchester, Concord Hospital, Cheshire Medical Center/Dartmouth-Hitchcock in Keene, Exeter Hospital, Littleton Regional Healthcare, Lakes Region General Hospital in Laconia, Southern New Hampshire Medical Center in Nashua, and Valley Regional Hospital in Claremont. Across state lines, RVCC is also clinically affiliated with White River Junction VA Medical Center, Rutland Regional Hospital, Brattleboro Memorial Hospital and Central Vermont Medical Center in Vermont.
"At RVCC we replicate scenarios where different health care practitioners work together in clinical practice to teach our students skills in effective communication, teamwork, and collaboration, said Ruby, one of the lab's project leads. "These are evidence-based competencies required in today's complex healthcare environment to insure positive patient outcomes."