RFK Jr. blasts Bush's 'Crimes Against Nature'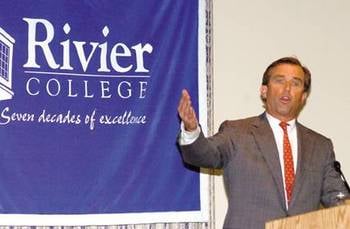 NASHUA – After hearing him speak, some people wanted to know why they haven't heard Robert F. Kennedy Jr.'s message before, and why he wasn't running for president.
Kennedy spoke and signed copies of his new book, "Crimes Against Nature: How George W. Bush and His Corporate Pals Are Plundering the Country and Hijacking Our Democracy," at Rivier College on Thursday night. He also answered several questions from the audience while he was there.
When asked why people haven't heard about his cause, he said the national media don't want to cover his controversial message.
"It's very difficult to get this out," Kennedy said, "I'm doing my best to talk to audiences one at a time."
His answer to why he doesn't run for president was that he likes what he is doing now, and that some of his views, such as limiting abortion, would not be readily accepted by the Democratic Party.
Kennedy, son of former U.S. Sen. Robert F. Kennedy, is now a senior attorney for the Natural Resources Defense Council and president of the Waterkeeper Alliance, an international grass-roots organization with more than 100 local water programs.
About 150 people gathered to hear him speak about the current administration's policies on the environment. The audience, comprising both students and area residents, gave Kennedy two standing ovations at the event.
He spoke about large coal-burning companies that, according to Kennedy, have bought out the current administration and whose pollution may contribute to more than 30,000 deaths a year in the United States by polluting the air, land and water.
Freshwater fish in 19 states are unsafe to eat because of high mercury levels, which can cause ney disease, and many other birth defects in children, he said.
Kennedy added that many people who have been appointed to positions in the Environmental Protection Agency are former members of corporations that have polluted in the past.
Kennedy said his book and his message are not about a Democrat attacking a Republican. He speaks to Republican audiences on a regular basis, and said 81 percent of Republicans believe that the country should have stronger environmental laws.
Brighid Vieira, 19, a freshman at Rivier, is registered as an independent but considers herself a Republican. She would not have attended the lecture and book signing, she said, unless she had to for a class.
"I am a Republican and I thought what he had to say was pretty interesting," Vieira said.
Although the event did not sway her vote in this election, she said she would vote for Kennedy if he ever ran for president.
Audience members wanted to know why Sen. John Kerry has not been talking about the environment during his campaign.
"The press isn't covering it," Kennedy said.
During the presidential debates, the environment was only brought up once by a journalist covering them, he said, and in all, only 4 percent of 15,000 minutes of network news was spent covering the environment last year.
Kennedy added that the press no longer wants to pay for investigative reporting and that most of the media in the country are owned by large corporations. They have turned news outlets into profit centers that have begun to cover sex and celebrity gossip rather than issues, he said.
Kennedy spoke for about 90 minutes, and near the book-signing table where he sat afterward, pamphlets on how to register to vote or how to obtain an absentee ballot were available.
Will Thomas, 61, of Auburn waited in line to have his copy of Kennedy's book signed with a message to save the planet. He said Kennedy's message is one that needs to be heard and that environmental pollution is affecting all of the children in the country.
He plans to donate the book to the students of Manchester Central High School where he used to teach cultural history.
"This is one of the big issues (the students) should be engaged in," he said.