Revolution takes 'intentional effort'
UNH program bridges STEM education for students of color with workforce development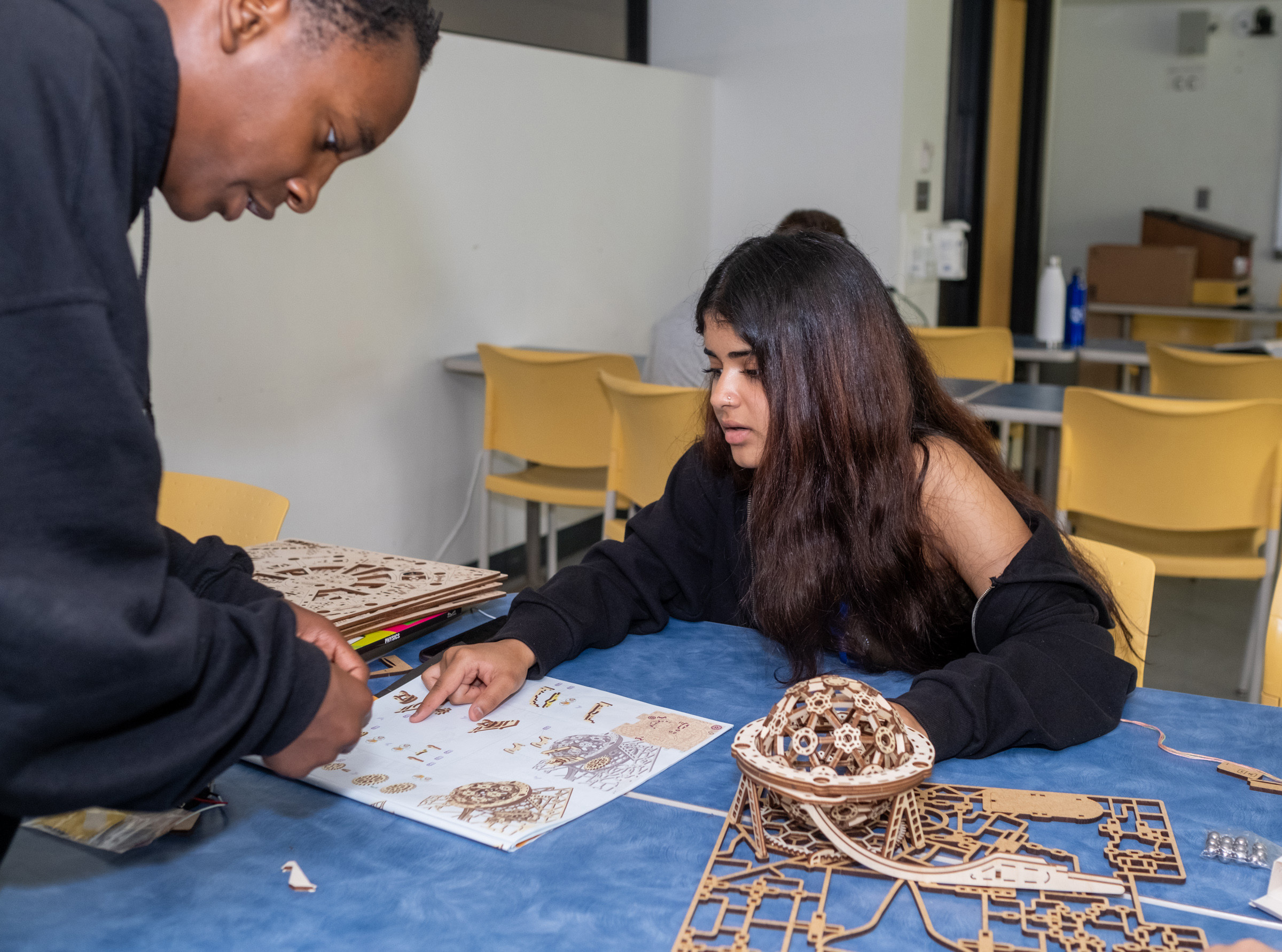 Leo Maldonado (at left), 15, of New Jersey, and Nistha Prasai, 14, of New Hampshire, work on a group building project. (Photo by Mark Bolton Photography)
The George Floyd protests in 2020 sparked more than just an outcry of racial inequality in the United States — it also made business leaders take notice of the apparent disparities in New Hampshire.
One such company, Appledore Marine Engineering in Portsmouth, saw what was happening and made a call to the University of New Hampshire. That one simple phone call would soon set higher education teachers and faculty on a course to enhance STEM education for middle and high-school students from all ethnic, cultural and socioeconomic backgrounds in New England.
Now in its third year, the Dinah Whipple STEAM Academy — named after a former slave who founded the state's first school for Black children in Portsmouth in 1806 — focuses on "science, technology, engineering, the arts and mathematics (STEAM), as well as the Black experience," according to its website. As a program of UNH Tech Camp, it's offered to students, typically ages 13 to 15, at no cost to them, thanks to funding from Appledore.
Scholarships are awarded to accepted students, who attend courses during one week every summer that focus on such topics as pre-engineering, physics, math and science, as well as African American history.
"Yesterday, we were talking about labor and the slave trade. What were the impacts of that, and how does that impact us today?" said Dzijeme "DJ" Ntumi, a UNH alum and a design engineer for the New Hampshire Department of Transportation, who is also the curriculum designer and lead teacher for the Dinah Whipple STEAM Academy. "(Students) worked out how much it cost to build the White House. What is that labor like? They calculate it on their own. How much would that be in today's dollars?"
A hands-on approach
After a morning history lesson featuring much discussion and reflection, classes then move to focus on a science topic, such as engineering, physics or hydropower.
Students "built water-powered engines. They built a scale model last year of the Three Gorges Dam," said Ntumi. "They're really good at hands-on (learning), and I found it really helps them understand the concept … Instead of just reading a book, it would be a lot more impactful in the brain. Working as a team makes them bond."
But, she says, "if it's not in the lesson plan and it's relevant, we talk about it. … We discuss, how does it make you feel? What can we learn from this?"
That morning's topic: hate speech and how it differentiates from freedom of speech.
The 10 or so students in the program shared real-life experiences of hate speech they've witnessed or endured, and supported one another by affirming their feelings and articulating their general support.
Ntumi, who was born in Ghana but grew up in the Manchester and Nashua areas, connects with her students on a level she is familiar with. "I grew up here (in New Hampshire), so I know the challenges of being the only Black kid in your school. … This is the one place where they're all the same."
According to the U.S. Census Bureau, as of July 2022, only 2 percent of our state's 1.395 million population identify as Black or African American, and 4.6 percent identify as Hispanic or Latino — 92.6 percent of New Hampshire identifies as White or Caucasian.
"The initial objectives (of the academy) were to get more Black students, more people of color into the STEM pipeline," said Carmela Amato-Wierda, a UNH associate professor and the faculty advisor for the UNH Chapter of the National Society of Black Engineers. "UNH is on the Seacoast, so the population of underrepresented groups in STEM is not high enough for us to recruit a teaching pipeline.
"One of our challenges is having instructors that are of color, because there's not enough for us to choose from."
Thankfully, Ntumi has blossomed in her role as instructor of the program.
"She was very enthusiastic from the get-go," Amato-Wierda said. "She's a natural teacher. We keep trying to tell her that the profession needs her."
Before becoming a bridge design engineer with the NHDOT, Ntumi was a cohort of UNH's Tech Camp, where she saw firsthand how fulfilling it was to work with young students after a trip to South Africa.
"I'm helping shape minds and create opportunity for (students) to create their own discourse with each other. At least, that's my hope. I hope at least they're having fun and learning something at the end of the day."
She continues, "I like working with kids.
It makes me happy to see them happy. … When they called me to see if I would help create a program for people of color and minorities specifically, I said yes, because I didn't get to have any of that, and I didn't see anyone like me when I was growing up."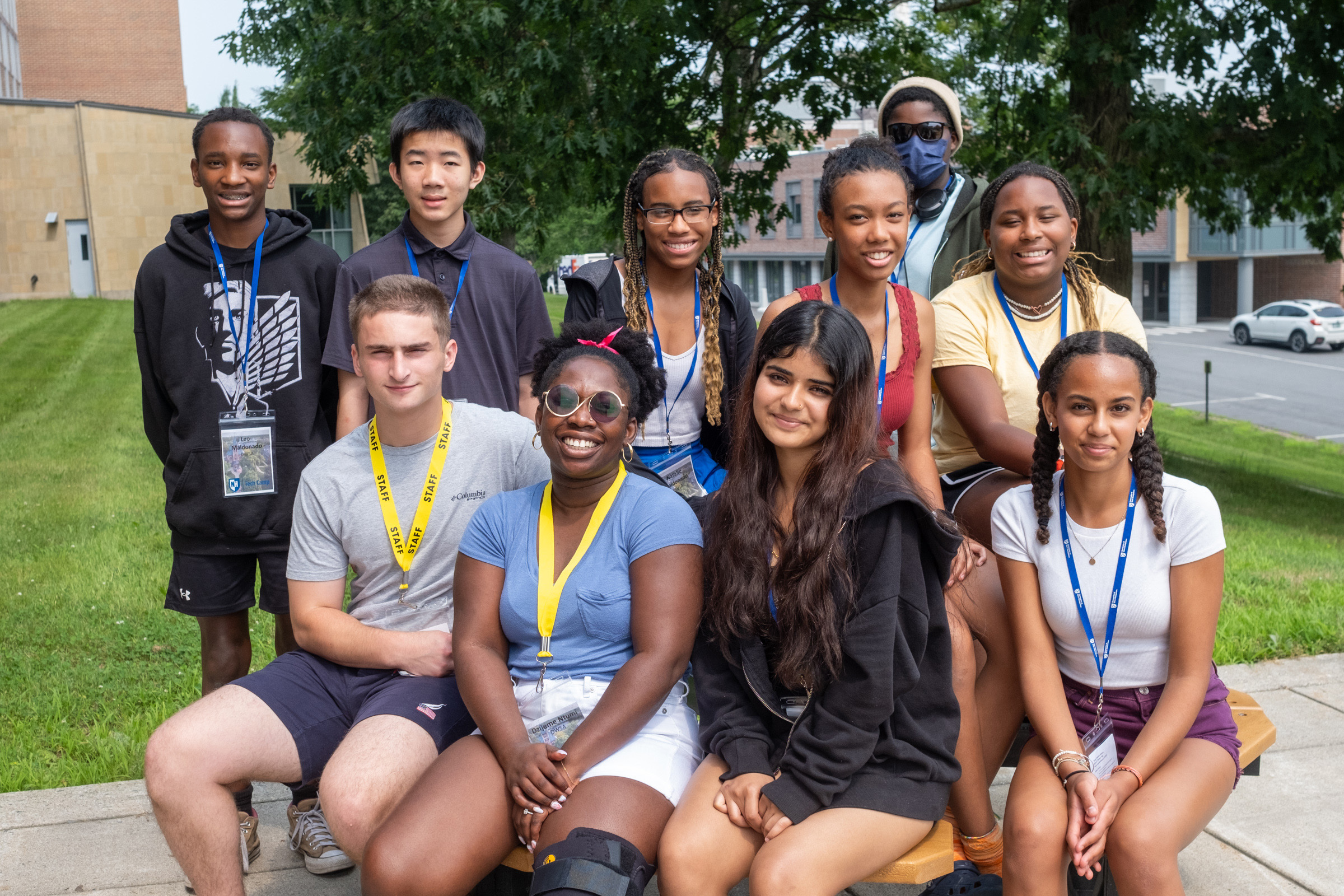 Dzijeme 'DJ' Ntumi (front row, second from left) with her 2023 student cohort. (Photo by Mark Bolton Photography)
'Tethers' for future workforce
One avenue the school is approaching to help fill that instructor gap is through another UNH program, NH CREATES, which is aimed to "cultivate interest and expertise in regenerative medicine and biotechnology among middle and high school students and teachers with the goal to address current and future workforce needs," according to the initiative's website.
Thanks to a five-year, $1.2-million grant from the National Institute of General Medical Science at the National Institutes of Health, NH CREATES can provide training in the area of regenerative manufacturing so they can bring such topics back into their classrooms, where they interact with young people every day.
"It's really critical to get teachers new information and make them aware of what's going on at the cutting edge," said Amato-Wierda. "We're also trying to connect or network everyone in the biomedical sciences across the state, so teachers can know about what's going on in higher ed.
"It's a synergistic effect: If teachers know what the industry is doing, they can share with their students. These students eventually end up in the workforce, and we hope they come back and share what they've learned with the next generation of students. … Teachers are the ones with the tethers to all the youth."
While Appledore Marine Engineering has been a strong asset and supporter of the Dinah Whipple STEAM Academy, the school needs more partners like them.
"We need more people like Appledore," Amato-Wierda said. "We're barely going to move the needle, and we know that. … This doesn't happen on its own; it takes intentional effort.
"I often tell people that humanities have become increasingly more necessary as the world gets more technological. It sounds like an oxymoron, but technology cannot exist on its own. It needs people to play a role in it."