Revision Military breaks ground at Pease
Montreal-based firm readies U.S. headquarters in Portsmouth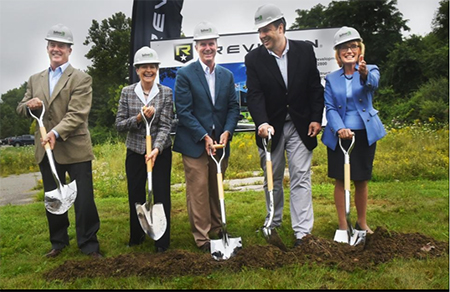 A ceremonial groundbreaking was held Aug. 13 to mark the start of work on Revision Military's new U.S. headquarters and Advanced Warfighter Equipment Development Center at Pease International Tradeport in Portsmouth.
According to Jonathan Blanshay, CEO of the Montreal-based manufacturer of protective military equipment, the decision to open up shop in New Hampshire was an easy one.
"There was probably a list of 10 factors" that convinced the company to choose New Hampshire to build its new facility, rather than anywhere else in the country," said Blanshay at the ceremony. "Certainly the employee base, the talent, the relationship with customers and academic institutions was a big part," he said.
He also pointed to the state's tax rates, saying that "was very important," along with the tradeport's proximity to both the U.S. Army Natick Soldier System Center in Natick, Mass., and colleges and engineering schools in the Greater Boston area.
The center will become Revision's seventh facility, joining three locations in Vermont, two in Canada, and one in the United Kingdom, according to the company.
The New Hampshire facility, being built on an eight-acre parcel, will feature an armor prototyping and development facility, according to the company.
Actual construction of the 47,000-square-foot facility, with room to expand an additional 55,000 square feet, is scheduled to begin this fall, the company said, with completion within a year. General contractor is Sullivan Construction of Bedford.
Blanshay said the company expects to hire as many as 75 people in the first year of operation in Portsmouth.