Restaurateur McSharry wins top N.H. SBA honor
Seacoast restaurateur Jay McSharry is named the U.S. Small Business Administration's 2013 Small Business Person of the Year for New Hampshire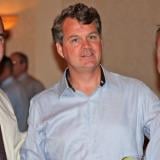 Seacoast restaurateur Jay McSharry has been named the U.S. Small Business Administration's 2013 Small Business Person of the Year for New Hampshire.
McSharry — owner of Jumpin' Jay's Fish Café and Moxy in Portsmouth as well as the Dos Amigos Burritos restaurants in Portsmouth, Dover, Rochester, Concord and Manchester – is widely recognized for his leadership role in the Portsmouth restaurant community.
He will be recognized locally at the annual NH SBA Small Business Awards event, May 22 at the Crowne Plaza in Nashua, along with other New Hampshire SBA award winners for 2013. He also will compete with the nation's top small business owners for the honor of National Small Business Person of the Year during the SBA's National Small Business Week celebration, June 17-21 in Washington, D.C.
In 2000, with the help of an SBA-backed loan, McSharry launched Jumpin' Jay's Fish Café, the first in a wave of other distinct restaurant/hospitality businesses he has opened in the Portsmouth area.
McSharry – known for a business style that is community-based and collaborative – "has certainly created a New Hampshire small business success story," said Greta Johansson, the SBA's New Hampshire district director. "During a challenging economic environment for the hospitality industry, he has continued on a path of growth and expansion."
The other 2013 SBA award winners in New Hampshire are:
• Good Leads LLC of Salem, Exporter of the Year (winner of both the New Hampshire and New England awards)
• LaBelle Winery, Amherst, Woman-Owned Business (winner of both the New Hampshire and New England awards)
• Garland Mill Timberframes, Lancaster, Jeffrey Butland Family-Owned Business
• Team O'Neil LLC, Dalton, Veteran-Owned Business
Devine, Millimet & Branch Small Business Team, Manchester, Small Business Champion
For more information on the annual awards event or to register to attend, visit nhsbdc.org.