Remembering John Olson
He was a tireless, committed advocate for manufacturing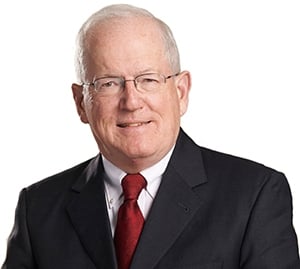 John Olson, former president of Whelen Engineering, was a giant New Hampshire contributor. He died Aug. 2 at age 83. Olson, a kind and humble man, was an engineer who graduated from the University of New Hampshire and joined Whelen, a manufacturer of emergency lights and vehicle equipment, in 1959.
Olson advanced in the company and at the time of his death was executive vice president, having giving up the CEO role previously. Olson grew up in Connecticut where the company is headquartered but had an affection for New Hampshire, especially western New Hampshire.
Charlestown, a small town south of Claremont and north of Keene (known principally for Old Fort No. 4 and baseball player Carlton Fisk), seems an unlikely place for a major manufacturing plant, but Olson brought a plant there that has become the major employer in the town and area.
While the Whelen presence in Charlestown started out small, with 10 employees or so, today there are over 1,000 in a plant of over 500,000 square feet.
Olson was a leader in New Hampshire business, serving on the Board of the Business and Industry Association, was a philanthropist for his town and the university, which named an advanced manufacturing engineering program for him based on a major gift in his honor by Whelen Engineering.
He was calm, quiet, funny, humble and wise. He was not quiet or reserved, however, when it came to advocating for two passions of his — the needs of manufacturers and the need to educate young people in advanced manufacturing skills.
Once on his soapbox, Olson would be tireless and focused in pointing out to one and all the needs of manufacturing in New Hampshire — sufficient workers, affordable energy and sensible state policies that encourage and not discourage the expansion of engineering.
At various forums held on manufacturing or the economy, he would hold forth either as a panelist or as a member of the audience, on these topics and no one doubted his passion. Once he had the microphone, he kept it.
Olson recognized early the need to acquaint students while still in high school with the concepts, opportunities and methods of manufacturing. At his insistence, and with his support, a high school internship program was developed in high schools, one that taught students manufacturing methods and practical math, and then brought them into actual manufacturing plants to do the work. Because of him, literally hundreds of young people learned that there was something fascinating about building things and that there was good money to be made by entering the manufacturing business. He helped transform vocational education in high schools to be relevant to the world of today's high tech manufacturers.
When Olson died, they threw away the mold. However, we should hope that someone else comes along to pick up the causes which John Olson championed and which did so much good for New Hampshire.
Surely, he will be missed.
Another loss recently is that of Oscar deRepentigny, of Manchester, who died in early August, well into his 90s. Oscar, a humble and friendly man, for years was the barber in the Manchester YMCA where he befriended generations of people both exercising in the gym and cutting their hair in the barber shop located there. When I first came to Manchester to practice law, Kimon Zachos of our firm told me I had to go to Oscar, and that was a fortunate thing to do.
Long retired, Oscar lived in the North End of Manchester with his wife Ann, who passed away earlier this year. He quietly enjoyed his family and friends, and had a kind word or smile for all who passed by his house or came to see him.
Finally, a brief comment on the rush to judgment following the announcement of charges against Senate Minority Leader Jeff Woodburn.
In a stampede, political leaders and officeholders of both parties called on him to resign based on charges announced by the Attorney General's office. While, if proven, the charges would be serious and reason for him not to hold office, the trend recently to impose vocational "capital punishment" when only charges have been made seems un-American to me, in a country that assumedly values "innocent before proven guilty."
Brad Cook, a shareholder in the Manchester law firm of Sheehan Phinney Bass & Green, heads its government relations and estate planning groups. He can be reached at bcook@sheehan.com.