Rehab equipment firm supplies smiles, independence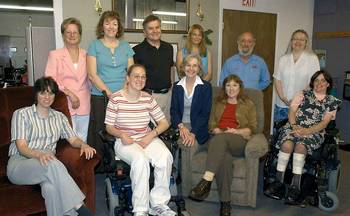 Jan Soderquist ended a recent tour of Rehabilitation Equipment Associates Inc. in Manchester by sharing photos of children enjoying a bike ride at this year's Bike Day celebration, which was hosted in the company's parking lot. The photos captured those first-ride smiles and excitement experienced by the children, all of whom are living with disabilities.
The bikes, modified for safety, comfort and ease of use, are prime examples of the equipment and service provided by the company Soderquist began in an oversized closet of her Goffstown home 23 years ago.
Now housed in a 14,000-square-foot facility on Page Street in Manchester, REQ, as the company is known, supplies members of the disabled community with the medical and rehabilitative equipment they need to live as independently as possible.
"Independence is at the core of what we do here," said Soderquist. "There's a lot of job satisfaction in what we do."
But supplying the equipment – everything from hospital beds and commodes to power wheelchairs and the aforementioned bicycles – is only part of what REQ does. The company assists physical therapists in the assessment process prior to recommending equipment and provides modification and service following the equipment purchase. REQ staff also aids clients in navigating the ever-changing funding maze that is often critical in the acquisition of the needed equipment.
According to Soderquist, Rehabilitation Equipment Associates assists more than 1,500 clients statewide. Soderquist credits the dedication to service demonstrated by REQ's 26 employees with the success of the company.
"We have a really energetic, dedicated staff," said Soderquist, whose son Scott is vice president of the company and daughter Kim D'Amato a rehabilitation technician specialist.
Soderquist's husband Karl owns Hub Scrub, an automated medical equipment cleaning company that recently became part of REQ.
REQ's dedication to meeting the needs of clients, along with Soderquist's commitment to her staff and New Hampshire's disability community, has earned Rehabilitation Equipment Associates recognition by Citizens Bank as the Not Your Typical Business Award recipient for July.
"Rehabilitation Equipment Associates is committed to providing excellent service, care and compassion to its clients – many of whom are also dealing with traumatic health and life changing experiences," said Dave Peterson, vice president, commercial banking for Citizens Bank. "The company is always seeking ways to improve upon its service, care and products in a rapidly changing industry."
By meeting Medicare's mandated operating standards, REQ has become a fully accredited organization and uses more than 100 different equipment manufacturers in order to better meet the varied needs of their customers.
For REQ staff, remaining committed to meeting the needs of customers is easy, considering the personal attachment they develop toward the families and individuals they work with.
"You can't help but get involved with these families," Soderquist said. "You always bond and get great joy out of their successes."
Carol Williams, an REQ client for nearly 12 years, learned just how committed the company is after her power wheelchair broke down in the middle of a city street.
"They were right there. Service to the customer is always first with REQ," said Williams, an advocate for disabled individuals and former three-term state representative. "They are so in tune with the disability community as a whole. They are very on top of what's going on and are committed to meeting the needs of the community. And they are really interested in their customer as a person."
Realizing that meeting the needs of customers is a team effort, Soderquist works to ensure REQ employees enjoy being part of the company.
The atmosphere inside the plum and green walls of REQ is light and relaxed. Cheerful greetings and jokes fly freely. For service technician Paul Therrien, this atmosphere and the sense of doing something worthwhile has kept him at REQ for 12 years.
"I really enjoy the people I work with here," said Therrien, whose aptitude for fixing things has earned him the nickname "MacGyver."
"I like the fact that the clients always come first, and I like being able to fix things for them."
For Mark Gilbert, a first-year equipment technician at REQ, keeping people mobile, independent and safe are key to his job satisfaction.
"There's nothing like giving a kid back his wheelchair after it's been broken," Gilbert said. "He can move again and he's so happy."
Company gatherings are a common occurrence at REQ and take many forms. From the annual St. Patrick's Day dinner to periodic cookouts and organized exercise classes to "Lunch and Learn" events – all are designed in the spirit of nurturing a strong team spirit and maintaining the feeling that REQ is actually an extended family.
Pulling the team together for the betterment of the community also is common throughout the year, according to Soderquist.
In the past, REQ has teamed with St. Anselm College, Toys 'R' Us and Easter Seals to host "Toys for the Holidays." The firm also has participated in the Muscular Dystrophy Association Lock-Up and worked with Easter Seals on a community garden project and transitional employment training program.
Soderquist herself has remained active in the disability community for more than 20 years, serving on the boards of Granite State Independent Living and the Nashua Center.
Being active in the community is an extension of her work at REQ, she said, adding: "It's all really rewarding. There's a real feel-good component to what we do."
The Citizens Bank Not Your Typical Business Award is presented in partnership with New Hampshire Business Review. Businesses are selected each month based on the company's commitment to community, colleagues and customers. Visit Citizens Bank online at www.citizensbank.com.