Radisson Manchester unveils its newly redesigned function space
$2.2 million renovation project includes refurbished ballroom, conference space, luxury suites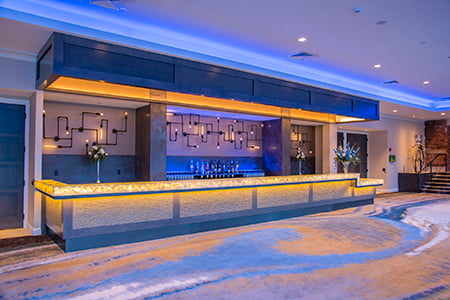 The Radisson Hotel Manchester has completed a 10-year, $2.2 million renovation project culminating in a completely redesigned and refinished ballroom and function space.
The 65,000-square-foot, 248-room hotel and conference center has undergone extensive room and function space renovations, including tech upgrades, enhanced culinary capabilities, and a renovated 12th floor that now features luxury suites.
"Our investment in the Radisson Hotel Manchester reinforces its status as an economic hub for southern New Hampshire, and as a centerpiece of downtown Manchester," said Louis Vinios of JPA Management, which owns the hotel.
Vinios said the transformation began in 2009, with the replacement of every window in the hotel. Since then, JPA has renovated rooms, bathrooms and hallways throughout the facility, along with the recent ballroom redesign.
As part of the project, JPA also performed strategic improvements to conference and meeting space, installing state-of-the-art teleconferencing capabilities and writable walls designed for collaboration.
Vinos said JPA has plans for more enhancements, including renovating the lobby and mezzanine, along with installing new mattresses, furniture and window treatments in all guest rooms.
The newly redesigned "Four Rivers Ballroom" pays tribute to local rivers that played a significant role in shaping New Hampshire's history and economy, particularly during the Industrial Revolution. The ballroom can now be divided into four sections: Merrimack, Contoocook, Piscataquog and Pemigewasset. JPA invested $1.4 million in renovating the ballroom, which is marked by its industrial flare, including encased columns, new furniture, and copper fixtures.