Questions for a community banker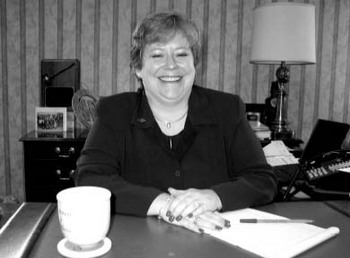 In this day and age of mega bank mergers, it's nice to know there are still some neighborhood financial institutions where customers really do come first. Ann Lally, president of Salem Cooperative Bank, was singled out for providing such personal attention as the 2004 New Hampshire Bankers Association Bank President of the Year. Lally also is a vigorous, yet self-effacing, community leader who has been instrumental in the $3.5 million capital campaign to renovate and expand the Salem Boys & Girls Club. The new facility, which serves some 2,000 area youngsters, recently opened its doors, partly thanks to Lally's non-stop efforts
Q: What does it mean to be a community bank, especially when sometimes it seems like they are a bit of a dying breed?
A: For us, it means service to the community. We still like to believe in an open door policy. I'm in the lobby, so I'm accessible to my customer base. It's the ties that you can make that help enrich the bank as well as enrich the community.
Q: Most people have only a vague idea of what a bank president does, something like George Bailey or Mr. Potter from "It's a Wonderful Life." How do you see your role?
A: I oversee everything that goes on in the bank. Every day is different. You have to be willing to be dynamic and flexible. This is a smaller institution – we have about $250 million in assets – so I am able to get involved with all types of internal projects and product development. I find that I am also an advocate for the bank in the community. We have just the one location, so it affords me the opportunity to be involved on a daily basis and stay connected with my staff.
Q: What kind of honor was it to receive the 2004 Community Banker of the Year award?
A: My first reaction when I found out that I was the recipient was "Wow!" I was honored that my staff nominated me. I was very overwhelmed with the quality of the people who had received the award before and that I would be considered among such an exceptional group of people that really give so much of themselves. It really took me by surprise. I was just truly honored and humbled for the opportunity to be recognized in that manner. As outgoing chair this year, I was emcee of the awards ceremony. I was doing introductions of people, and I kept asking for all the names so I could script everything and be sure of the pronunciations, and they kept saying "no." So during the evening when it came down to the Banker of the Year award, I heard the presenter saying all these glowing things about the recipient, never thinking it was me! It was a little overwhelming.
Q: You obviously take the "community" in "community banker" very seriously.
A: The volunteerism I do and the reasons that I do it have little to do with being recognized for it and more to do with the fact that it makes me feel really good inside. It becomes infectious for other people to be involved. I always encourage my staff to be involved if they can be. I really feel it's important to give back. It doesn't have to be involvement in some big organization. Just helping out an older neighbor that has a hard time getting around can be a wonderful way to give back. That's something people forget. Investing that time really does make a difference. If you can make a difference in just one person's life – that's huge.
Q: You were the first woman to hold the position as chairperson of the New Hampshire Bankers Association. Was it a tough row to hoe?
A: No, not at all. I have to tell you that the banking industry in the state of New Hampshire is very fortunate to have some truly great leaders. They are an excellent group of people to work with. The association staff is wonderful to work with. It was an honor to represent such a fine group of people.
Q: You are active in the Salem Boys & Girls Club. Tell me about the $3.5 million fund-raising campaign you are a part of.
A: Sometimes it's like a second job. The fund-raising campaign came out of a need for a teen center, not something specifically affiliated with the Salem Boys & Girls Club. I was part of a committee that did research on possible solutions and the club came out to be the best solution. We haven't reached our total yet. We're at approximately $2.5 million. So we still have a little ways to go, but the building is open now and it looks absolutely beautiful. It's really a dream come true for so many of us. There are a lot of other people involved in the project — I was by no means the only one. State Sen. Charles Morse is our chairman, and I was one of the vice chairs of the campaign. I worked very hard to try and get people rallied around this cause. I'm also actively involved in the annual auction that we run for the Boys & Girls Club. This last year we raised $110,000. The outpouring from the community has been really wonderful.
Q: What's one important thing people can do to achieve financial health? Stay away from credit card debt?
A: The biggest pieces of advice I give people is to try and live within your means and save for a rainy day. I know it's kind of basic, but it's very true. My business is lending, and prudent lending is also very important. I can appreciate that people want to have nice things, but I think that it is important to not overextend yourself. Financial hardship can create a lot of added stress and other problems.