Q&A with: Yarn entrepreneur Marci Richardson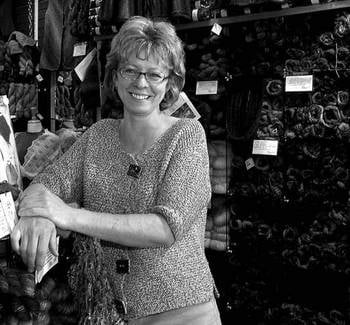 Marci Richardson worked for a number of years as a nurse, first for Indian Health Services in Arizona, New Mexico and Alaska and then as a trauma nurse at Concord Hospital. All the while she had a hobby — knitting – which in 1998 she decided to pursue as a way of making a living.
In those eight years, Richardson's Concord yarn shop, The Elegant Ewe, has blossomed, with a customer base that spans the globe. Listed by the publication Knitter's Stash as one of "America's favorite yarn shops," The Elegant Ewe specializes in designer yarns and carries a selection of 30 brands from around the world, including Japan, Australia and New Zealand. The store also offers a range of classes, from beginner to advanced.
---
Q. What made you decide to own your own business?
A. I was a nurse for many years, and just was not satisfied. I tried to make it work, but after 15 years, it just was not working. I tried several other careers before I decided to do what I loved best — knitting. I've knitted as long as I can remember; I knit every day.
We were a little lucky in that knitting had a huge surge in popularity about three years ago. People want to do something relaxing, to take a step back, maybe do something they remember seeing their grandmothers doing.
Q. What did you find to be the biggest challenge as a woman when it came to starting your own company?
A. I never had a business class in my life. I had a lot to learn, especially regarding cash flow. When I opened, I didn't have a lot of money. I took a bank loan for maybe $20,000 or $30,000. Later, I learned that most knitting shops have loans around $100,000.
I had a good business plan, so I'd know in five years whether I was making it. I now make double what I did as a nurse, but it's never been about the money, other than making a viable business.
Q. In your experience have you found a difference in how women are accepted as entrepreneurs or successful businesspeople, as compared to your male counterparts?
A. I don't think some people take women as seriously as they do men. Being in the yarn industry, there is still the stereotype of being a spinster and knitting in a rocking chair. Our average client is in their 30s or 40s.
Q. What is the greatest perk you've found in being your own boss?
A. Doing something I love. You've got to have the passion to do this every day.
Q. What was your biggest mistake and what did you learn from it?
A. My biggest mistake is that I started out bigger than I should have. I wanted tons of inventory and to have everything, and boy, did it suck up the cash right away. I had to work very hard, and I didn't have the extra staff.
I would tell others just starting out to start small and be safe. Find the avenues that are working best and put the money there.
Q. Who has been most instrumental in your success and why?
A. My family. It is so important to have a family that supports you. I also have fabulous employees. Employees truly reflect the business.
It's also important to have another female friend in business that you can bounce ideas off of.
Q. How do you define success? How did you know you were successful? What was that threshold?
A. The day my bills were paid in full! Seriously, there was not a big "aha" moment. I opened without much money, but had a five-year plan. By the fourth year, I had a steady stream of customers. Even on snowy days, I had folks coming into the store.
Not all my customers are local, either. When I started having customers nationwide and from other countries, I knew this was going to work.
Q. What is the one drawback or one part of owning your own company that you hadn't counted on?
A. I didn't realize the amount of time that needed to be invested. It's like having another child. Even when I'm off work, I'm still knitting. I'm still thinking of ideas.
Q. What are some of your techniques for balancing work and family that you can share with other business owners?
A. Schedule your personal time. If you schedule it, it's more concrete. If you don't, then something can always come up.
It's also important to have a hobby. I've taken up the Celtic harp. Do something that's totally not related to your business.