Q&A with: Women's Business Center's Sharon Drake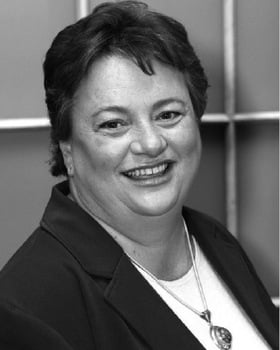 After three months as executive director of the Women's Business Center in Portsmouth, Sharon Drake believes her role is clear — to build on the existing framework of the nonprofit organization, which for 12 years has been dedicated to helping women achieve their entrepreneurial dreams.
"We have a great core set of programming and offerings right now," said Drake. "What we have and what has been built is fantastic. Now we need to take it to the 'incredible' category and that's exciting."
Redesigning the Web site and a formal marketing campaign are two items already etched on Drake's "to-do list." Drake is hopeful an increased awareness of the organization will lead to a rise in membership. While the organization serves about 1,500 women annually, its membership stands at about 300 — a small percentage of the 36,000 women-business owners now operating in the Granite State.
Before joining the staff of the WBC, Drake spent 13 years with the New Hampshire Community Loan Fund, as director of the Home of Your Own Program, helping developmentally disabled individuals become homeowners. She is currently serving as the chair of the Emergency Shelter and Homeless Coordination Commission.
---
Q. Give a quick overview of the services provided by the Women's Business Center.
A. The WBC provides business counseling, training, advocacy and peer support for New Hampshire women. We help women gain information, knowledge, skills and support to start or grow a business.
Q. What are some of the programs currently being offered?
A. Monthly roundtables in Dover, Manchester and Keene, group counseling in Portsmouth and Manchester, professional business counseling – three hours free annually to all members.
Q. What was your first order of business upon joining the Women's Business Center?
A. Grantwriting. January through April are generally heavy grantwriting months for nonprofit organizations. Additionally, we needed to submit several federal reports.
Q. Have you outlined specific goals for the organization or identified any challenges?
A. Luckily for me, the board of directors is a well-organized group of women with a clear vision. They had just completed a three-year strategic plan which clearly outlines many goals and objectives. Our biggest challenge is making sure that we meet all of our members' needs, from women just starting out in business to seasoned business owners.
Q. What are the current trends among New Hampshire's women-owned businesses?
A. Internet-based businesses rather than bricks-and-mortar-based businesses are increasing, as is interest in "green" related products and practices. And merchants associations.
Q. Do you see the role of the WBC changing as entrepreneurial trends change and the number of women-owned businesses in the state increases?
A. I don't see our organization changing. We may adapt to an increase in demand for services, but the core of whom and what the WBC is and offers will remain the same. I think that we do a great job in all of our core offerings. We can add to what we do by going deeper – deepening the impact of what we already do.
Q. The number of women-owned businesses in New Hampshire has increased by 44 percent in the past decade. Is this growth reflected in the WBC's membership?
A. Yes, it is – however, we can't give you exact numbers. We are currently in the process of redesigning our database so these numbers and more are readily available. We have seen an increase in the number of women who join the WBC and an increase in individuals showing up for our roundtables and core offering programs.
Q. What changes would you like to see for the state's women entrepreneurs?
A. More involvement of women in leadership positions, such as seats on boards of directors. For example, women only hold 21 percent of seats on boards of directors, according to the Women's Policy Institute. Additionally, we need more resources for all women entrepreneurs in the state, specifically financial.
Q. How about for the WBC?
A. We want to grow the WBC membership, improve on our programming, business training and networking. We want more and better visibility, better marketing and public relations, improved mentoring opportunities, and increased access to resources for our members.
Q. Why should New Hampshire citizens concern themselves with the status of women-owned businesses?
A. According to a recent WBC and University of New Hampshire study, business leaders understand women's contributions to leadership, and they have good ideas on how to expand those opportunities. Women are great organizers – they care for home and family and still work full-time jobs or run their business. Women are looking for more family-friendly workplace priorities – some are creating them for themselves.
Katie Merrow from the Women's Policy Institute says it best: "As New Hampshire's workforce ages and competition for younger workers increases, businesses that use women's talents will likely gain a competitive edge."
Q. Do you have any advice for women who may be contemplating starting their own businesses in the state?
A. Call the WBC – talk to our business counselor and then join. You will receive three hours of free counseling when you become a member. Make sure that whatever you are creating for a business you are passionate about and make sure that you seek professional assistance along the way. You don't have to do this alone – ask for help.