Q&A with: WMUR General Manager Jeff Bartlett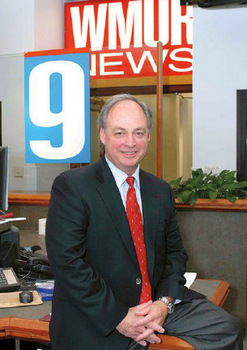 While many in the broadcast media industry have an itinerant career, Jeff Bartlett has taken that practice to another level. General manager of WMUR-TV since 2001, Bartlett has criss-crossed the country, racking up no less than 16 jobs during his career.
His industry experience has ranged from writing news for broadcast to consulting to management. The 55-year-old Concord resident recently sat down with NHBR to discuss the pending switch to digital broadcasting, the 2008 election and even offered some words of wisdom about being a late-blooming father.
---
Q. How did you get into television?
A. I had five or six different majors in college and ended up in journalism. I took a broadcast journalism course, and said, "Hey, this is it. This is what I want to do." I got an internship at a TV station in Denver when the writer at the station quit. They asked me if I'd like to fill in until they hired somebody. I said, "Sure."
Well, the summer ended and I had to go back to school, but they hadn't hired anybody. They asked me if I'd like the job full time. I accepted it, then rearranged all my classes, so I could take classes in the morning, then write for the 5 and 10 o'clock news. That's how it started.
Q. You spent time as news director at WBBM-TV, the CBS affiliate in Chicago, and also had stints in Arkansas and Tucson. Those are all very different markets.
A. I spent 22 years of my career in news. 'BBM was my last news director's job. I started in Denver as a writer. When I graduated, they made me a producer on the weekends. Then I went to Portland, Ore., as a producer of a couple of shows. Then I went to San Francisco as a producer. Then I went back to Denver as producer, then at another station there. Then I went to Tucson for the first time, as executive producer. Then Oklahoma City, as executive producer. Then I went back to Tucson as news director, at a different station. Then I went back to Oklahoma, to Tulsa this time as news director. Then I went to Miami as assistant news director.
I then quit the business for 2-1/2 years and did news research and consulting in Dallas for a company called Audience Research and Development.
Then I left there and got the job in Boston at WBZ. Then I went to Philadelphia, 'KYW, same company. Then WBBM in Chicago, same company.
I left Chicago and joined Hearst Argyle, and got my first job as general manager of two stations in Arkansas. When this job opened up, I applied and got it.
I can't do a resume any more on one page!
Q. That's quite a list. Is that kind of mobility typical of the business? I know radio DJs move around quite a bit.
A. And anchors and reporters as well. It's more common in TV than it is in most industries, although I was probably at the extreme.
I think this is my 16th job. This is the longest job I've ever had, at a little over 7-1/2 years.
Actually, all the moving around was good experience when I became a consultant. Even if you work someplace that's bad, you learn — maybe not what to do, but what not to do. That's sometimes just as valuable as learning what to do.
I think it made me a better manager because I had learned so many different styles, so many different approaches, so many different philosophies of news and running a station.
Q. Every TV station covers politics, especially the big contests. What do you think is unique about WMUR's political coverage?
A. This is an unusual state. I've worked in three different stations in Denver, and we were about three blocks from the state capitol and never went there.
Most stations do not cover politics the way WMUR does because most populations don't care as much about politics as New Hampshire does.
I think the differences are many. One, look at the size of the state Legislature. You've got lots of people, per capita, involved in politics. [New Hampshire Secretary of State] Bill Gardner used this quote once — if the per capita representation of New Hampshire, citizens vs. Legislature, was done the same way in California, their Legislature would have to be 11,000 people.
Every election except U.S. senator and Nashua mayor is every two years. So you're constantly in campaign mode.
I think also the New Hampshire primary allows people access to candidates that you don't really get anywhere else.
I think the combination of those things, coupled with a small population, and a population that is very concerned about protecting their individual freedoms — their lack of an income tax and other sorts of broad-based taxes — makes them concerned and involved in politics.
All that together makes New Hampshire much more interested in politics.
A good TV station responds to its viewers because if you don't, they tend to drift off and go someplace else. So we cover more politics and in more ways, especially since we're now using the Internet all the time, than any place I've ever been.
Q. Is there a political story that you'd love to see covered by WMUR that hasn't — or can't — be done?
A. There are probably dozens. Some of the stuff just takes way too much time, way too much research, to do.
For example, we take certain ads and look at them and say, "Who's telling the truth here? Who's stretching the truth?" We'd love to do every single ad, but you can't. I would like to spend more time with [the candidates] on every issue, not only what they think about that issue, but why they think that about the issue. Who told them that? What was their source of information? Sometimes that can be as revealing as, or more revealing, than just knowing their position.
I would love to be able to get at those kinds of things, but you don't have the time, you don't have the resources, to do the sort of in-depth story. Or the time with the candidate. And would they even let you?
Q. The digital transition is looming. What's left to do?
A. It's a little complicated and there're a few wrinkles to iron out. There's a ton of stuff we don't know.
The station now is broadcasting [digitally] on Channel 59. Because it's out of what they call the core channels, we have to switch. We decided we'd go back to Channel 9. Some stations are not, WCVB in Boston, Channel 5, is in digital on Channel 20. After transition, they're going to stay on Channel 20.
We're going back to 9 because we have to move. That's one problem. We're not going to be able to test our signal except for overnight when we turn off our regular Channel 9 for a few hours when hopefully most people are asleep. We're not going to get full-time daytime testing until we actually make the transition. That's got me a little nervous.
Q. What issues are you anticipating?
A. There are, according to Nielsen, some 37,000 households in New Hampshire that watch exclusively over the air, meaning they don't have cable, they don't have satellite — they watch through an antenna through the TV or on the house. If their TV doesn't have a digital tuner built into it, those are the people that have to do something.
They can send away to the government and get two vouchers worth $40 apiece to go purchase their converter box. Converters run anywhere from $40 to $70. Then you have to hook it up.
All of this is on our Web site, by the way. It has a widget where you put in your address and how you watch TV and it tells you what you have to do.
It's fairly simple, but in the test transition they did in Wilmington, N.C., there were a lot of people who didn't hook up their converter box until that day and didn't know how to do it. So we're going to get a lot of those calls.
In the North Country, we are seen by low-power transmitters (unless you've got cable or satellite). Those low-powers are not part of the digital transition. The FCC has not yet said when low-powers will do a transition. So across the country, there are about 7,500 stations that are not part of the transition. They're all low-power, and in this state, that's us. In the North Country only.
There's another problem: The digital signal is not exactly like the analog signal. The characteristics of the digital signal and the analog signal are different. With an analog signal, you can get a weak signal. It may be a little snowy, a little grainy, but you can still watch it. A digital signal, you either get it 100 percent or not at all. So all those people that are fringe viewers will not get a signal.
Q. What do they have to do?
A. In some cases, depending on how fringe they are, they can simply buy a bigger antenna. If you used the one on the TV, maybe now you have to put one on the roof. There still going to be a group of viewers — and we don't know until we do it – who are watching us right now on analog who will not be able to watch us over the air in digital no matter how big their antenna is. The signal just will not get to them. Those people are going to have to buy cable or satellite.
Q. Because there's just not enough signal to pull in?
A. Correct.
Q. This reminds me of the Y2K.
A. There was a lot of fear about Y2K and a lot of fear about digital transition. I think there's going to be real problems with digital transition. I don't know how big.
Because of all the promotion, people are starting to sort of get the idea that there's something going on and that they have to find out what they have to do. But there's always going to be a group of people who don't get the message, who don't act for one reason or another. A lot of these people are not going to know what to do.
We don't know how many people that is. Our goal between now and digital transition is to make sure as many people as possible understand the potential issues, and take steps to either buy the converter box or get satellite or cable.
Q. Unlike analog signals, digital channels have subchannels that can carry separate content from the main digital channel. What are you plans those?
A. It's not clear what we're going to do with ours.
There was some thought to running a 24-hour weather channel.
I am interested in a separate New Hampshire channel that will have lots more very local news, reruns of our "Chronicle" shows, maybe carry more local sporting events. But to do all that, you've got to have the resources.
We're looking at a variety of things, maybe we'll buy a channel and we'll just run it, maybe it will be all movies or old TV shows like TV Land.
We were working with ABC for awhile, to have an ABC News Now channel, which is on the Internet now, but that deal has fallen through for now, because ABC and the affiliates couldn't agree on a business model for that. It was going to be ABC News with our local cut-ins, but I suspect that that will come up again.
Q. Where do you see the station going?
A. The area where we're investing a lot of time and money is on the Internet. We're looking at lots of different ways to cover news. It is slowly beginning — much more rapidly elsewhere – to be more and more an element of what we do, not only financially but in terms of content.
In our "Conversations with the Candidates," we kept an exclusive half-hour for the Web. You can watch many of our news stories on the Web before the news broadcast, and almost all of them on the Web after the newscast.
We also put lots of extras on the Web. We'll do a two-minute interview with one of the Red Sox players on the TV, we'll but the whole 10-minute interview on the Web. If there's great stuff that didn't make it into the story, we'll put the whole interview on the Web.
We streamed all six weeks of the Sheila LaBarre trial on the Web. We got 500,000 page views on Sheila LaBarre stories in July alone.
When Hillary Clinton and Barack Obama met up in Unity, you saw just clips on the news, but you could see the whole thing streamed on the Web.
It's a growing source of news content for viewer share, to get in-depth stuff, side bars or related stories and viewer supplied content, like photos from the tornadoes last summer.
In the next five years, that is what we're focused on. We're still going to do great TV — when there's a tornado, we're still going to do seven hours of continuous coverage, but it's all going to be on the Web as well as extra stuff.
Q. When you go home at the end of the day, do you watch TV?
A. Yes, I do. But I tend to watch more stuff now on the Internet. Because of this, people are actually watching more TV now than ever before.
Q. You waited until you were 54 to have your first child, who's now 10 months old. Do you think that made you a better father?
A. It makes me a different father. I don't know what I would have been like at 30. Am I going to be able to play baseball and football with him they way I would have when I was 30 or 40? No. But I'm going to be able to take him to art museums, take him to Europe, and be able to do stuff with him that I either didn't know about or couldn't afford when I was in my 30s.
Cindy Kibbe can be reached at ckibbe@nhbr.com.