Q&A with: Web designer Nick Soggu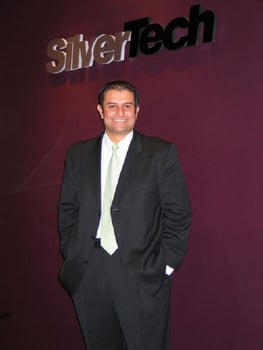 Starting a company is hard enough, but when you have financial pressures, industry crashes and youth all working against you, it can seem downright impossible to succeed. Nick Soggu overcame all of those obstacles to build his SilverTech interactive Web design firm into a solid gold company.
As president, Soggu, 33, says the stock-in-trade of his 10-year-old Manchester company goes far beyond building Web sites for customers — SilverTech builds relationships.
---
Q. How did SilverTech come into being?
A. In 1995, I had taken a class in college in Web technology. At that time, the Internet was really starting to take off. I thought at that time that there would be a lot of potential for the Internet. During grad school, I thought working with the Web and building simple Web sites was something that I could do in my spare time.
I built a small Web site and registered the name SilverTech.com.
When I left grad school, I was working full time for Digital (Equipment Corp.). Then Compaq bought Digital and my group was getting consolidated, but I thought I might want to work with SilverTech full time.
At that time, it was just me and Eric Esposito, director of technology here for us. Eric and I had been friends for a long time. He was always more computer science-focused and I was more customer-side focused.
I actually borrowed $5,000 from my parents to start this thing off. We both went at it full time in 1998-1999 timeframe. That really started us. We were in a small, 400-square-foot office on the east side of Manchester, right on Candia Road, right off the highway.
Q. What was SilverTech's business model?
A. We were doing Web hosting. We were building some Web sites. At that point, everyone wanted a Web site that was essentially a brochure, but we knew right from the beginning that was just a piece of what the Web could do.
At that point, we landed our very first client, a company called AmeriFee — they financed things like cosmetic surgeries, orthodontia work, vision correction procedures that regular insurance companies don't. In 1998, we built an online application process that was the start of a long-term relationship with them. After they were purchased in 2002 by CapitalOne Financial, they looked at a lot of the systems we had built for them and said there was no reason to change. That was our leg in to understanding that the Web is really more than just marketing; a significant piece was really more process- and business efficiency-oriented.
Q. How did you not only survive, but succeed, after the dot-com bust?
A. The biggest way we survived the dot-com bust was that we never got ahead of ourselves in terms of hiring people without having the forecasts correctly in hand. We've always been intelligent about outsourcing when it was necessary or just buckling down and working the extra hours it was going to take rather than have the risk of additional people.
Q. It also sounds like you didn't measure your revenue simply by financing rounds like so many businesses of that era.
A. I didn't have that luxury. That financial investment from my parents I gave back to them in a few months. Since that point, we've been independent. I've purposely said that the business model here is that everyone that's here is in it for the long-haul.
When there is that opportunity to take on outside financing — and believe me, there have been opportunities — I've always turned them down because I want to grow this company as organically as I can.
Q. So there's no "M&A" exit strategy?
A. There's definitely going to come a time when I'm going to want to take a different role. At that time, yes, there might be some exit strategy, but I don't see where I'd ever be disengaged.
Q. Where's your innovation leading you now?
A. It's the consumers on the Web that are driving innovation. From an online experience, they're interested in rating products, providing customer feedback. I find that to be a better shopping mechanism. The other thing we're watching is the mobile markets, pushing data to and from handhelds, two-way communications. Your Internet experience is now no longer limited to your desktop.
Q. Is your company's work with nonprofits part of your corporate culture?
A. It was really a matter of I'm here in this community, I'm using the streets, I'm using the resources, I need to make sure that I'm proactively giving back to the community as well.
Q. Tell me more about your latest endeavor – the renovation of the Ash Street School in Manchester.
A. There are approximately 13,000-square-feet of livable space, and we'll be taking up about 7,000. The remainder will be put up for lease. My hope is that I can find younger entrepreneurs, a three-, four-, five-person shop, and lease the space to them.
Q. Sort of a next step out of an incubator.
A. Exactly. It's a beautiful piece of property. You don't see very many like it, and because it is a historic property, we've been very careful about what sorts of renovations we're doing to the property.
A lot of the work we've done has been in building automation systems, HVAC, lighting, electrical control, audio control, security. We're turning this building that was constructed in 1874 in a building that functions for 2008 but is still a historic property.
Q. When will the project be complete?
A. We hope to move in by the end of April. It will be an ongoing project for the next few years, though. It will be in move-in condition by the end of April. In the summer or fall, we'll begin on the outside.
Q. I noticed it's owned by "Soggu LLC." Are you considering more real estate investments down the road?
A. This happened to be a great fit for our business. We needed a permanent home. All of our employees are based in southern New Hampshire, if not in Manchester itself. I didn't want to move anywhere else. This was really a one-time thing.