Q&A with Settlers Green General Manager Dot Seybold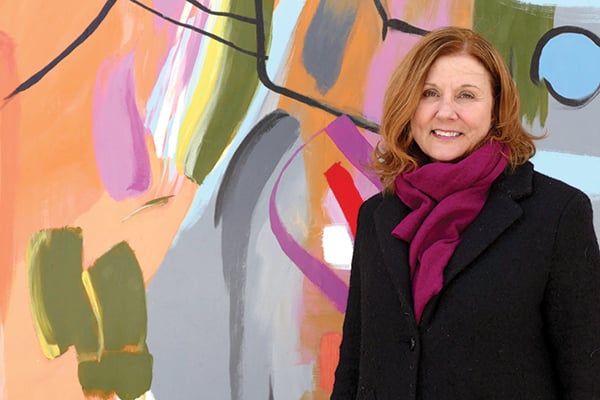 Dorthea M. "Dot" Seybold started working as marketing director for the North Conway retail center, Settlers Green, in 1989, and in 1991, she was named general manager, the post she holds today. Well known throughout the Mt. Washington Valley for her retail and marketing expertise, she also was longtime co-owner, with her husband, Russ, of the Conway Scenic Railroad.
Originally an 80,000-square-foot shopping center built on the 100-acre site of the former White Mountain Airport and opened in early 1988, Settlers Green holdings now include four distinct shopping destinations along North Conway's Route 16 corridor—Settlers Green Outlet Village (the original and largest location), Settlers Crossing, Settlers Corner, and Settlers Streetside—totaling some 550,000 square feet.
The company recently received conditional site-plan approval from the town to build a nearly 70,000-square-foot Market Basket store to the east of the new Streetside development, but that approval is being challenged by an abutter due to traffic and parking concerns, according to The Conway Daily Sun.
Q. When did Settlers Green open?
A. February of 1988 was its sneak peak. There were a limited number of stores, but the stores wanted to get open, so they opened. Of course, back then it was a specialty retail center; it wasn't an outlet center.
It was a tough time for development in North Conway and anywhere else in New England, really. So the developers [OVP Management] rebooted their approach.
This North Conway market wanted outlets. North Conway was what they would call a recreational area. It's not an urban area, it's not a suburban area. It's a recreational, rural area. At that time, a lot of retailers were very sensitive about where they put their stores, so they loved going to North Conway because the Boston market was here shopping, and loved the outlets.
We started out with about 80,000 square feet. By '98 we were at 200,000 square feet. We're now at 300,000 square feet [at the original location]. We're not building just to build; we're building because there's a demand for the types of stores that people want. We were kind of ahead of our time, which I like to point out now… Everybody was building indoor malls and shaking their head at us having this outdoor shopping center, and of course, now, indoor malls are a declining model.
Q. Why do you think there's an attraction for the outdoor experience?
A. When you're in a village-type outdoor setting, you have the views, you have the weather – good, bad or indifferent — you have the elements that you would have in a regular downtown area, and it doesn't feel artificial to you. It's giving people a relaxing, attractive place to shop, but not making it feel that you're not getting an authentic experience.
Q. Are special events part of the mix?
A. We've always done events, but we don't do concerts or things where you have to be here at a certain time in order to experience that event. We try to create events where people who are already here can enjoy it and not have to be here at any particular time. We had an art event that went on all day long.
We also have been installing a lot of art. We've spent a fortune in the last two years on art and we have more coming, because art is something that people will seek out when they're vacationing. For us, it just felt like another way to give people a surprise when they're shopping. We have six or eight pieces here now, everything from an incredible granite statue that took over a year to do that was custom-done for us to woodland creatures that we've stuck here and there. It's Instagramable, which is another word. They want to have something that they can capture with their family that gives you a sense of surprise and place.
Q. Do you think the surprise element is mostly due to the architecture and the layout and the items that you just described, or does it carry over to the actual shopping experience as well?
A. The best retailers, the ones who are performing the best in our center and, I think, in other places, are the stores that are engaging the customers in every possible way they can. It's not just customer service. If they want something and you don't have it, then you need to get it to them in a way that makes it effortless for them, and the better stores are figuring that out. And it's not easy to figure out.
Q. You could take that and argue that that's one of the things that people are finding with online shopping — it's just so convenient, for the most part.
A. But the customer wants to have that total experience. There are stores in New York City that are nowhere else. There are brands that started online. You have to have all of that experience. You have to have bricks and mortar; you have to have a really vital online experience; you have to be seen in the public eye. You have to have people who are wearing your clothes, or embracing your brand, who are experiencing things that make other people want to experience them in the same way.
Q. Can you tell us about the Girlfriends' Weekend?
A. That's a great story, because we spotted that there were these groups of women coming up on this particular weekend in November. It wasn't, like, hordes of them, but there were enough that you were, like, 'What's the deal? Why are you here?' Of course, we talk to people, so, they were, like, 'Oh, this is the traditional start of hunting season.' And, so, women from Maine, mostly Maine, were gathering their friends and coming to North Conway. So, we took that idea and, basically, we created an event out of nothing … and it's done nothing but grow. And now the whole town is involved with it. We have partners – we have lodging partners, and they pay in order to be part of our promotion. Everybody who comes gets a plastic bracelet, and when they wear them around town, they get free desserts, they get buy-one-get-one-free, they get different promotions from the participating restaurants. We give all the restaurant people banners that say, 'Welcome to Bring a Friend Weekend' with our logo on it. We try to spread the fun around so that everybody benefits.
Q. Is there a particular mix of retail that you strive for? How do you decide the best balance of, say, clothing, restaurants, specialty shops?
A. Fashion drives pretty much everything else, so you have to have a preponderance of women's fashion, and then you have men's fashion, shoes, sports. Sports gear is huge. We have Nike, Adidas, Under Armour. We have Famous Footwear. All of them sell a ton of outdoor, active, athletic gear. Then you have to have accessories stores, you have to have food. You have to have a lot of food, whether it's a candy store or a full, sit-down restaurant, people want to see many options for food. It's also driven by brands. If you want to have a Coach customer, which is a higher-end customer, then you've got to have a Coach store. And they all follow each other, by the way. If you have a Coach store, then you get the attention of another similar-type retailer, or another fashion retailer. If you have Banana Republic, then you can get J. Crew.
Q. What is your online presence for Settlers Green?
A. It's multifaceted. We have pages for everything. Our website has pages for food. We have pages for experiences. We have pages for events. Every one of the properties has representation. We have a place where you can go and find out what's going on in town. We regularly send out newsletters to our 50,000 email subscribers about what's going on in town. If there's something exciting going on, we've found that when we send out email, and if the subject line is related to North Conway or some kind of, typically, North Conway adventure, it gets opened a lot faster than if we say there's a sale at one of our stores.
Q. What is the status of the Market Basket project?
A. It's approved. We're waiting for a few legal issues to settle out. We have some abutter issues that we hope will settle out pretty quickly and we'll hope to start construction in the spring.
Q. Can you describe a typical day?
A. Well, today I worked with the architects. We are designing a new restaurant concept, so, there was a lot of discussion today about the architectural interior. I worked on the sign package today for REI. There's a lot of construction management, there's a lot of permitting, planning.
Q. What do you know now that you didn't know when you became general manager of this place?
A. [Laughs] That's a big question! I would say that you can't do it by yourself. You have to have good people that you can depend on. We love finding people that we can depend on, either our own employees, or partners, like people who cover us for insurance, or people who do our cleaning, even people who do our construction. I mean, we work with local people who are phenomenal. That's really important, where, I think in the beginning, you're always thinking about money, and how can I do this for less money? If I knew then what I know now, that would have been much less of an emphasis.
Q. You've been here now for a long time, so there must be something that keeps you here.
A. I have a great team, and that makes a huge difference. We have people that have been here a long time. Our finance department has been here almost as long as I have. Julie (George) was originally hired as an administrative assistant 30 years ago and is now responsible for the bookkeeping offices, overseeing all income and expenses for the multiple properties. I have a great marketing partner now with Laura (Lemieux). She's really very, very good. And now we have a new facilities manager (Keith Wehmeyer). If you have the right people around you, it just makes the job a lot more fun and a lot more interesting and a little easier.