Q&A with: Salvation Army Major Gregory Hartshorn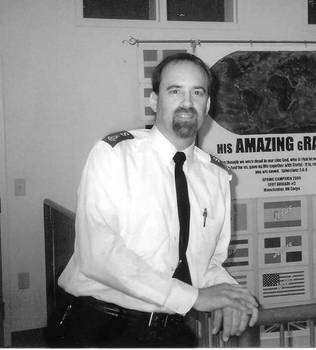 As co-pastors of the Salvation Army in Manchester, Major Gregory Hartshorn and his wife, Major Barbara Hartshorn, are leaders of a small church community with a large mission. Major Hartshorn is a Manchester native who returned to the city in the summer of 2004 from a previous assignment in Niagara Falls, New York. The Hartshorns are the parents of three teenagers, all of whom are students at Manchester Memorial High School.
---
Q. What is happening to the tradition of Salvation Army bellringers at retail establishments all across America?
A. It's going to become a thing of history in another 20 or 30 years, except for your independent "mom-and-pop" shops. I mean, that's my take on it. The stores get pressures. If you're not a union store, then the unions come up to you and say, "You've got a Salvation Army stand, then we can stand out there and picket employees to try to become union." And it gets sticky. So they get scared and they say, "OK, nobody stands." And I understand that.
And then there are all kinds of other fad pressures today — you know, this whole thing as the holiday approaches of not using the word "Christmas" in your sales literature and signs. What's lacking, I think, today is the sense of personal conviction. If we have a conviction, then we're not going to sell out so quickly to this group or that group. We're going to hold true to it because it's something we strongly believe in.
Q. The Salvation Army is seen meeting so many needs between Thanksgiving and Christmas, but what do you do after Christmas?
A. Yes, Christmas is a time when we're concentrating on meeting those needs. We visit a thousand-plus individuals in the nursing homes, hospitals and jails that time of year in the greater Manchester area. We do a thousand-plus families with food baskets and toys for the kids. We took 400 children shopping at two stores in the Mall of New Hampshire for brand-new clothes, from outerwear to underwear, as they had need — well over $125 a child. That's over $50,000 in one evening. This time of year is a concentrated effort for serving people in a mass way. But those needs don't stop Jan. 1 or Dec. 26.
Q. So what is your agenda like on Jan. 2?
A. Jan. 2, I come back and most of my staff comes back after a week of well-needed rest. We take a deep breath and we hit the ground running. I do my United Way budget, which is due the end of the month, and then we actually have half a day when we close the building and all of our staff come together and we calendar out the year.
All of our projects, from the Bunny Campaign in April or March, around Easter — when we sell all those chocolate bunnies — to day camp for the summer to backpacks for back-to-school. When are they happening, when are the letters going out, the appeals to the agencies and whose getting how many slots? When are we doing warm clothing, when do kettles start, when are we doing the Thanksgiving dinner for seniors, when are we visiting all those nursing homes? I mean everything is mapped out.
Q. What do you have for staff?
A. I have 12 staff. I have a receptionist/ secretary. I have a cook, part-time. She cooks and does lunch in the summer and then dinner at Kids Café, so she jumps to 40 hours in the summer. I have a maintenance person who is awesome. I have a development director who helps with the grants and the PR. I have a finance manager who does all the accounting. I have a case worker who does all the help with the clothing, food, food vouchers, special needs all year long. And I have a special projects coordinator who coordinates, right now, adopting families for Christmas, as companies want to take on families, matching it all up.
Downstairs I have a youth center director and a teen coordinator, both male, and then we were able to hire a year ago in September a female 27, 28 hours a week because we had no consistent female presence down there.
Q. How many volunteers would you say you have in your various programs?
A. Three thousand — it's huge. We're starting to develop a database so I can get my arms around that.
Q. How do local businesses help out on a year-round basis?
A. Associated Grocers are still a big help in contributing. Sometimes we get groceries for the Kids Café. They will also send their staff down to volunteer an evening. We have a ton of companies that will adopt a night once a month and they're down here.
Q. How many church members do you have?
A. Oh, it's small. Maybe 45 to 50. My wife and I are co-pastors. In the Salvation Army, you're a husband-and-wife team.
Q. Do you worry that for people who are not part of your church, your charitable work may obscure your salvation mission?
A. It certainly can, and it's something my wife and I both fight. The danger is that you get caught up in all of the needs and the push and the drive, not only in meeting the physical needs of thousands of families, but also in chasing the dollars so you can meet those needs. And you have to be so careful that you don't spend an inordinate amount of time on that and negate the opportunity to share with a child and reach these kids and not just feed a hundred kids each day, but also give them an opportunity to know God and the change that can make in your life.
That's where conviction, as I spoke about earlier, comes in again. I have been pressured to not pray in Jesus' name or take a picture of Jesus off the wall. "You can't get money from us if you do this that or whatever." And let me tell you, conviction speaks. If you have conviction, your "yes" is yes and your "no" is no and that's a biblical principle, regardless of what the interpretation is out there.
We are a church that is a mission, seven days a week. Yes, we worship on Sunday, but all the things we do the rest of the week are the gospel in action. We are living out our mandate by helping the poor, the oppressed, the widow, the children, the orphans — you name it. That's what we do and that's born out of conviction. The relationship is who I am. It goes hand in hand. Conviction speaks that way.