Q&A with: Robbi Farschman, executive director, Red River Theatres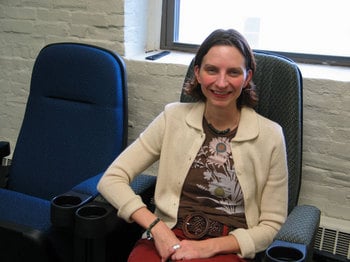 When Robbi Farschman, newly appointed executive director of the Red River Theatres in Concord, left the steamy heat of Baltimore this past December for the snowy winters of New Hampshire, she did so willingly, approaching the move with the gift of practicality that has marked many of her experiences turning the theoretical into reality.
Farschman lived in Europe for several years, traveling on both sides of the Berlin Wall, and even volunteered with the Peace Corps, serving in the newly cleaved Slovak Republic.
It turned out to be the impassioning experience that set her on her path to developing programs for communities.
With an esoteric-sounding master's degree in macro social work from the University of Maryland, Farschman has spent the last 10 years working with non-profits, assisting communities and schools with educational programs.
While she readily admits the film industry is new to her, Farschman, 38, is helping to turn the silver-screen vision of a movie house showcasing independent art films into a reality.
---
Q. What attracted you to the Red River position?
A. My man Chris and I really wanted to be anywhere in New England where there was snow in the winter. We hate the heat and the humidity of Baltimore.
I love film, but I've never run a theater before. What I have done is started a nonprofit before, I've worked with groups to develop partnerships, I've done fund-raising and grant writing. Everything I've done, I saw this project needed.
This is a theater and a nonprofit, but it's a business. The nature of the business is movies, but it is not about movies — it's about the business and the fundraising piece, education, grant writing.
Unfortunately, some folks might think that it's all "touchy-feely," and we can be loosey-goosey about it. As far as I'm concerned, there's an even higher bar as a nonprofit to be successful and not violate the regulations. For example, we need to file annual reports with the charitable trust unit. If we don't, we could be doing fund-raising illegally. So you need to make sure this kind of stuff is in order.
Q. I'm intrigued by the name of the theater, "Red River." Is there a connection to the John Wayne movie?
A. Yes. It was a 1948 John Wayne movie. The idea was the epic trek that these men have to make, and it's going to be impossible. There's going to be hurdles and barriers that they've never even thought of, but ultimately, they are successful.
Barry Steelman was the initial seed-planter of the idea for this theater after the Concord Theatre and his Cinema 93 closed in the 1990s. In 2001 when the bylaws were set, it was named Red River after the movie and this difficult but ultimately successful journey.
I don't know if he's the one who came up with the idea or not — that decision predates me. It very well might have been. He has an absolutely encyclopedic knowledge of movies and film.
Q. Red River will be screening art films and independent films and documentaries.
A. You won't see "Mission Impossible: Part 192" here.
We'll be showing non-commercial films, hoping to create a buzz about them. We're hoping to set the pace for some of these. I think we're going to develop that credibility for having these great films before anybody else gets them.
People might not know a lot about these films before they see them, but once they see them and see the consistency of the quality of the films, people are going to come back for the reputation and experience.
Q. Since the films that will be shown will appeal to a different audience than "Mission Impossible: Part 192," will the concessions be any different?
A. Certainly, there will be popcorn and soda, but there's also the desire to talk to local restaurants, for example Bread and Chocolate, to see if we can develop a relationship. We'll also have a liquor license for beer and wine.
I'd love to have for our first show on Sunday morning with bagels and cream cheese, so people could do brunch at the theater.
Q. You mentioned Barry Steelman, owner of the former Cinema 93 movie theater. There had been a lot of talk about creating an artistic director position to help with programming, and his name was often mentioned to fill the seat. Where does this position stand now?
A. Most of the other nonprofit theaters I've spoken with did not have anybody on staff doing their own booking of films. They rely on a booker generally, who helps nonprofit theaters get films.
So generally, we here at Red River won't have seen these films ahead of time, and we'll be relying, in a sense, on somebody else's expertise and what they believe is going to work and what our market will bear.
Theaters usually have a point person on staff that might spend two hours a week with the booker and talking about the kinds of movies that are coming and talking about scheduling. Right now, this person is likely going to be me.
Q. Let's talk about the theaters themselves. There will be three screens.
A. Yes. The larger theater seats approximately 170. The smaller one about 112. The multi-purpose room seats about 45.
The projection room, which is built between the two larger theaters and can project films to both screens, will have either two platter systems or one platter and one reel-to-reel. We haven't decided yet. The nice thing about reel-to-reel is that you can do archival films, which you can't do on the platter.
The theaters also have Dolby surround sound and stadium seating. The projected costs for the two main theaters is around $160,000.
The third screening room is going to be set up for DVD.
Q. Q. Where are you on the capital campaign?
A. We're doing a great job. We've collected $1.5 million towards our goal of $1.83 million. We have about $323,000 left to go.
A lot of that $1.5 million is in pledge receivables, so it's not cash in hand. People have pledged between now and June of 2009.
Somebody asked me earlier if we needed all that money, could we just stop now. I said we need every bit of that. In reality, we probably need some more of that.
We're going to be getting some construction loans for bridge financing that will retire concurrently with our pledge receivables.
We definitely don't want folks to think we're done because there's only $300,000 left. This last $300,000 will be harder to raise.
We've had lots of really huge contributions, but when I talk to community groups, I tell them it doesn't have to be a $100,000 check. Those are wonderful, but those $5 checks are just as important. That's ownership, and that's the grassroots piece about connecting to the community.
Q. When is the opening planned?
A. Early fall, but we don't have an opening date yet. Our construction team will be starting around April 30 on our fit-up. They should be wrapping up towards the end of September. We'll have a much better idea in July or August.