Q&A with: Restaurateur Rick Loeffler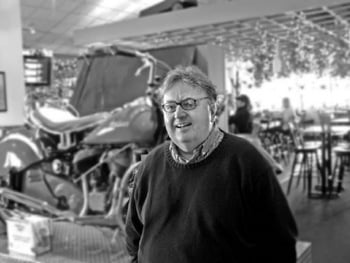 Shorty's Mexican Roadhouse founder Rick Loeffler has been owner or part-owner of several New Hampshire restaurants over the past 30 years, including the former Daffodils in Bedford and the former Heaven and Rancho Loco in Manchester. He opened seven Shorty's restaurants and has since sold five of them, keeping the Manchester restaurant in the North End Plaza and Shorty's in the Nashua Mall.
---
Q. The Shorty's empire is shrinking. Why?
A. Times change. Two of the stores we sold were underperforming, and we were glad to get out, frankly. One was on the Seacoast in what turned out to be not a good location for a number of boring reasons. And the other two were in markets we hated to leave. One was West Lebanon, where we had a very good performing store. But somebody came along and made us an offer we couldn't refuse. And the same thing happened in Bedford recently. A gentleman came along who really wanted that location, and he made us a good offer and we took it.
I have long-term leases on these two remaining properties. In my opinion, they are, by quite a bit, the two best locations. Hooksett is growing like mad and Nashua is same way. So we're happy with them, and we don't have any plans to do anything else.
Q. When did you open the first Shorty's?
A. In the summer of 1989, we opened the first one in Litchfield. It did well, in spite of the out-of-the-way location. Then I opened Shorty's in Bedford a year later, and it did great. It was a different world. There was not much competition then. A lot of the chains were just getting started. As you recall, there was a terrible recession then, and that's when the banks were closed down. But you know what? We were a low price-point at Shorty's, we were young, and we had fun. Shorty's was rockin' and rollin' in Bedford.
Q. What did you have that made it fun?
A. We had the same things we have now. We had fresh food, and we made it right, with good recipes. We had great margaritas. You come to Shorty's, sit down and get some free chips and you get a cold beer or a really good margarita and you're off to a great start. People were curious about a fun place. And we were not very expensive.
One of the byproducts of the recession – and it's always a byproduct of a cyclical downturn — is that there are more good people available. In 1990 and '91, kids were graduating from top eastern schools, Ivy League schools, and couldn't get a job. We were hiring the best and the brightest — really top, young, smart kids, mostly from around Bedford and Manchester. They were young and attractive, but more than anything they were fun and intelligent.
So if you have an environment like that and the customer sits down and someone says "How ya doin'? Glad you're here! What can I do for ya?"— and they know what they're doing, you know you've got a chance. So we were really beneficiaries of the economic problems.
Q. So how do you hang on to good people during a good economy?
A. We always try to treat people well. We've always had a company based on the theory that there's no rank. Everybody's a PFC. We got rid of people because they had some basic skills but they didn't treat people nicely. If I had a manager, and occasionally we have, who didn't treat people with respect or was kind of a jerk, they didn't last long. You can't be a jerk.
Q. What's the most challenging thing about running a restaurant?
A. I think it's keeping up your passion. Because it's an all-encompassing business. You hope people will have a good time and there are a lot of components to that. Is your parking lot clean? Is the bathroom clean? Are the lights right? Is the music right? Is the heating or the air conditioning right? And then, is the waiter in a good mood that day? And is everything all right in the kitchen, have you got everything, are you out of anything? And on and on and on.
There are so many things that can go wrong. And the fewest things go wrong if somebody's paying attention. And in order to pay attention to all that, they have to have a certain intensity and passion about doing it and they have to be on their game.
Q. As you went from one restaurant to several, was it difficult to keep up with all the details?
A. Yes, and the thing kind of consumed us and we made some mistakes. We picked some bad locations. You learn all these things and you get real smart when you get old. And I really wish I'd stopped at about four restaurants and then added some people who were a lot smarter than I was, and that we'd really picked good locations to grow and get more capital.
I would like to have built a bigger company that I could have sold back in the '90s. But you live and learn. Fortunately, we always did well enough and we were able to sell some restaurants to whittle down to this size.
The irony of it is I hope we grow again. I think it's possible we will. Not right at this moment because right now, I think we're in a little bit of an economic downturn, and also I've never seen the competition quite as extensive as this. They've added so many restaurants around Manchester and Nashua, it's unbelievable.
Q. How will you do things differently if you expand again?
A. I think it's possible we could do a smaller version of Shorty's. You know, kind of a limited menu, maybe 20 percent of our menu, the top-selling things. A storefront restaurant like there used to be in Manchester, with a bar, and just sell fajitas and margaritas and enchiladas, and that would be it. Keep it simple. That's a possibility.
Q. How similar is the fare in Mexican restaurants here to what is served in Mexico?
A. There's a huge difference. What people eat in Mexico is quite different from almost all the Mexican restaurants around here. Fajitas were invented by a woman in Houston in 1970. Did you know that if you ordered nachos in Mexico City, they wouldn't know what you were talking about? They also don't know about burritos. Burritos are Tex-Mex. Our food is a combination of authentic Mexican and Southwest Tex-Mex and some Caribbean and Central American cuisine.
Q. Where do you like to go when you go out to eat?
A. I like to go to Shorty's, obviously. Around here, I go to C.R. Sparks once in while. I like to go to Boston and Cambridge.
Q. Do you find yourself thinking as a critic when you're dining out?
A. Always. I really think of myself as sort of a restaurant reviewer in my own mind. Of course, you evaluate everything. I wish I could go find the owner every time and tell him what I think about the meal. But it would be kind of rude.