Q&A with: Red Cross Executive Director Lisa Michaud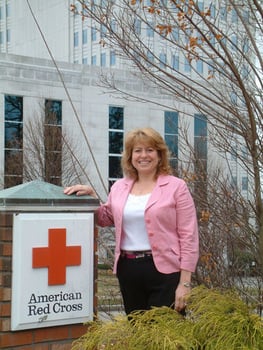 Lisa Michaud's preparation for dealing with disaster has included a decades-long marriage and the rearing of three children.
She has been employed in a number of capacities, including a stint as a cook at the rectory of Saint Marie parish in Manchester. Her organizational work has included an active role in founding the Women's Bible Ministry in that parish. She joined the Greater Manchester chapter of the American Red Cross in December 2003 as director of community involvement, later becoming interim executive director before being named permanent executive director in February of this year.
The chapter's resources and its ability to coordinate with other agencies and donors has been put to the test several times since then, most recently with a fire on Pearl Street that left approximately 100 Queen City residents homeless.
---
Q. What drew you to the Red Cross?
A. Its mission is so compelling. In my heart, I feel my role lies in servant leadership to my community.
Q. What are some of the services the Red Cross provides?
A. Our mission is to prepare for, prevent and respond to emergencies. We teach babysitting classes. We have a summer swim program. We have a program that connects high school youth to the elderly in assisted living facilities, called "Senior Connect." We go into schools and day-care centers. We discuss things like hand-washing techniques to prevent the spread of disease. We deal with planning for pandemic disease, a flu epidemic and things of that sort. We teach adult CPR and First Aid.
We are currently training 50 people in the Manchester community, including 25 from Neighborhood Watch groups in partnership with the Weed and Seed program, St. Mary's Bank and Volunteer New Hampshire. We do education on how to open up Red Cross shelters, how to do mass feeding, do client case work the Red Cross way. We provide that training free.
Q. How do you respond to something like the Pearl Street fire?
A. We get a call from the fire department to our dispatcher and our emergency services director. They decide how many people we need. Then our dispatcher, Marion Stearns, calls on all the volunteers and sees who's available. Then she calls me and lets me know if I'm needed at the scene.
Q. What does the Red Cross bring to the scene?
A. We have vehicles fully stocked with blankets, food and emergency comfort kits. They'll show up at a scene and our people will start dispatching what's needed.
Q. How quickly can you arrive at the scene and be engaged?
A. The Pearl Street fire occurred sometime between 7 and 7:30 p.m. We were on the scene at 8 o'clock. With our 26 community partners, we were able to set up a temporary shelter at St. Joseph Regional Junior High School.
Q. It sounds like the Red Cross depends on a lot of individuals and organizations, public and private, to carry out its mission.
A. We wouldn't be able to survive without them. We write grants, but we depend on the generosity of the communities that we serve. We receive no government funding. We rely on donations and grants from organizations like the New Hampshire Charitable Foundation, New Hampshire Catholic Charities, the Bishop's Disaster Relief and others.
Q. What happens when you have collected more donations from individuals for a specific disaster than you need for that mission?
A. We call the donors. We tell them the needs of the victims have been met and we ask them if we may use that money for future victims who will have just as great a need. If they say we can't, we will return their money.
Q. How many have asked to have their money refunded?
A. One — out of hundreds.
Q. How many employees do you have?
A. Seven, plus three Americorps volunteers.
Q. How many other volunteers?
A. Hundreds.
Q. You use the word "community" a lot. What does it mean to you?
A. Empowerment. When we work as a community, we work as a team — we're able to recover from whatever fate brings. We're able to plan better, support one another better. It saves the government money and people are restored. The turnaround for that is much quicker.
Q. With TV, radio and newspapers bringing news of disasters worldwide almost daily, is there a danger of compassion fatigue?
A. I don't see we're suffering from that. I think this community is one of the most generous in the nation. Whenever a neighbor is in need, this community has risen to the occasion.