Q&A with: Real estate broker Karl Norwood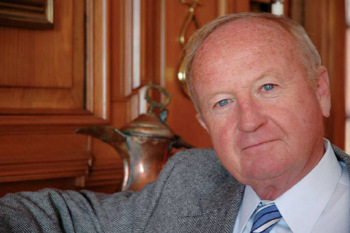 It was a propensity for identifying promising business opportunities that led Karl Norwood to leave his milk delivery business behind in pursuit of a career in real estate 40 years ago. It's that same propensity, along with unwavering optimism, that has Norwood reentering the residential real estate market at a time when concerns over declining housing prices, a sluggish economy and the current home loan crisis plague the industry.
What began as a foray into residential real estate for Norwood and his wife Louise in 1968 gave way to a focus on residential and commercial brokerage and development in the early 1980s. Today NAI Norwood Group continues along this path, with offices in Bedford and Portsmouth. Its affiliation with NAI Global, a managed network of 375 independently owned commercial real estate brokerage firms from around the world, has enabled the company to leverage its experience and knowledge of the local commercial real estate and development market and extend their services to customers all over the world.
Nearly 26 years after selling the residential division of The Norwood Group, however, the Norwood family has expanded its focus and once again embraces the local residential market.
In January, The Norwood Group Residential Real Estate office opened on Route 101A in Amherst. Norwood's sister — and former Realtor of the Year — Nancy Pomerleau is managing broker, son Todd is overseeing technology integration for the company's Web site and son Chris – the current Realtor of the Year — will take over managerial responsibilities. The three family members have been joined in Amherst by eight agents.
---
Q. Why the decision to reenter the residential real estate business again, especially in such a volatile market?
A. By the time we sold our residential division the Norwood name was recognized – it had become synonymous with residential sales. When Norwood Realty was sold to Carlson it became Carlson Norwood, that sold to GMAC and that became Carlson GMAC, it now had a completely different flavor. When Carlson made the decision to close some of their offices, including the one in Amherst, where Nancy had remained since the beginning, we thought, "Why not capitalize on that and the fact that the Norwood name is still recognized?"
Yes, the market is down right now, but it will come back, and the Amherst-Milford-Bedford corridor is just the place for that comeback.
One of the most exciting things, and a big reason for getting in, is how well the residential side and the commercial side complement each other. For example, if we have someone looking to purchase commercial space for their business they may also be looking to relocate to the area. We now can refer back and forth.
Q. What are the biggest changes that have taken place since the last time you were in the residential business?
A. The industry has changed so much in some ways, but at the same time it hasn't changed. The bottom line is, "What do you have to sell?" You're selling service, that's really how you differentiate yourself.
Technology is another big change. People today need to be so cautious with their time. They want to be able to go on these virtual tours right from their own computers. Everything now is faster, faster, faster. You've got to keep pace.
Q. What role will you and Louise be playing in the residential side of the business?
A. Louise and I are still very much involved. We'll be assisting Chris and Todd. We have an open door policy here. There are always questions, and I like it like that. I like staying involved. As president of the company there are always things to do.
Q. Even after 40 years The Norwood Group is still clearly a family business. How do you think that has helped you?
A. We're not a faceless corporation. If there's a question or an issue people know they can call me. There's a personality with a family business, and people like that.
Q. Given your reentry into the residential market you must be optimistic. What outcome are you anticipating for the market?
A. When you're coming in at the bottom of the market it's all good news. So much of what is going on in the housing market is perception — why fan the fire of negativism? We're excited about the outcome and enthusiastic about the growth potential. The word "lifestyle" may be overused, but New Hampshire is still a great place to live. While there may be ebb and flow, this market will return.
Q. What changes are you seeing and anticipating in New Hampshire's commercial real estate market?
A. We're excited about the recent opening of our Portsmouth office. That area has a lot of activity and will complement the activity we've seen here in the Manchester area.
In general, New Hampshire has always been strong when it comes to incubator businesses, and I think we'll see continued growth here. We've shown that it doesn't have to be all about these monster businesses. What really makes New Hampshire strong are these businesses with two, three, five or 10 employees. It's fun — that's what New Hampshire is all about.
Q. With all that's going on for you now, what do you and Louise do to relax?
A. We enjoy our home in Amherst. We can really gear down there. We also love to travel when we can get away.