Q&A with: Radio host Arnie Arnesen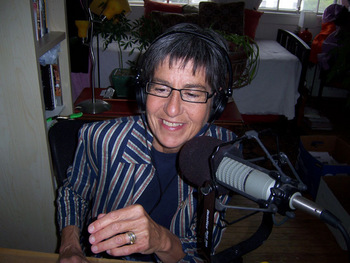 A former state representative from Orford and Democratic candidate for governor and U.S. House, Arnie Arnesen has pitched her left-of-center politics and candid opinions on radio in New Hampshire and elsewhere for 20 years.
From the makeshift studio in her Hopkinton home, she broadcasts "Chowder in the Morning" daily over WCPM 1110 AM in Salem and has been a frequent guest commentator on an Iowa Public Radio station for the past five years. She also is the host of "Political Chowder," broadcast Sunday mornings on MYTV (Channel 50) and replayed on 38 New Hampshire cable TV stations.
She has won two radio and one TV "Air Personality of the Year" awards from the New Hampshire Association of Broadcasters. In 2000, she was named one of the nation's most influential talkers by talk radio's "Talkers" magazine.
---
Q. So what are you doing on radio in Iowa?
A. I have been doing Iowa Public Radio, on and off, for about five years. It started around 2003, right before the 2004 primary and caucus elections. Steffen Schmidt — who is known affectionately in Iowa as "Dr. Politics" — and I started doing radio together, and I would hang out with him every couple of weeks. But it would be relatively informal and he would randomly show up on my radio show and I would randomly show up on his.
About two and half months ago, Iowa Public Radio merged all their smaller stations into one large station that covers the entire state of Iowa and also goes from Chicago to Minneapolis. And the question was, is Steffen still going to have a show because he was on only one of those stations?
They decided to keep his talk show and now it's part of what's called "Talk at 12." Every day at noon they do a different area of interest. Wednesday is the political piece. So now it's Iowa's Schmidt and New Hampshire's Arnesen talking for an hour every single week on this large public radio station in the Midwest. But most important, it's New Hampshire and Iowa. And of course, I kid him that the show isn't really "Talk at 12," it's talk in anticipation of 2012.
Q. Why are you anticipating 2012 already when we still have several months to go until the 2008 election?
A. At this point, we're not anticipating. But any time you hear any of the national commentators talking about this election, they go back to how important New Hampshire and Iowa were. They actually changed the course of history, with what the electorate did in both of those states.
Q. What are your plans for the Iowa show?
A. At some point in time I think we'd like to take (the show) beyond Iowa and New Hampshire, but the only way you take it beyond Iowa and New Hampshire is that you establish yourself in those two states and become the "go to" place. So if you're looking at the next potential candidate, you want to know what we're saying.
Q. How much influence do you think you'll have in these two states?
A. I don't think it's about power. I think it's about conversation. I think it's about evaluating candidates. It's about looking at politics from very different perspectives. When Steffen talks about the farm bill, he looks at it totally differently than when I talk about the farm bill. When he talks about ethanol, he looks at it totally differently than when I talk about ethanol.
Q. When did you start doing radio?
A. In 1988 on a small radio station, WNHV, which is in White River Junction, Vt. My audience consisted of two groups. We had this Dartmouth sort of sophisticated group on the one hand and we had the White Mountain Militia on the other. And it was on my radio program that the White Mountain Militia and Dartmouth professors could talk together.
Q. Why is talk radio so thoroughly dominated by the right?
A. If I am on the radio and I have concerns about global warming and the fact that we don't pass CAFE requirements and the sale of SUVs is harmful for the environment, to the infrastructure and to our conspicuous consumption, who is not going to like me? Car dealers. Car manufacturers. Because they see SUVs as their meal ticket. If you're going to raise questions about the pharmaceutical industry, do you think they're going to buy ads on your radio show for Merck?
So when you look at what conservative talk radio does, it aids and abets some of the biggest advertisers. When you look at the kind of radio I do, I probably make some people uncomfortable and unhappy, because I raise questions about the commercial aspect of their business.
Q. Do you foresee any likelihood that talk radio will become more "blue," or congenial to Democratic and liberal viewpoints?
A. I think there'll be an opportunity for talk radio to become a little more eclectic than it is right now, a little less conservative, a little less reactionary. But I don't think it'll ever get more than that because public radio has always sucked the oxygen out of real diversity on the dial.
People used to blame Rush Limbaugh for why there was no liberal and progressive talk on the radio, and I said they were really wrong. It wasn't Rush that did it. It was Public Radio that undermined it.
Q. What's your problem with public radio?
A. The only complaint that I have about public radio is that they're afraid of opinion. And in the end, facts are very important. But you know what? Opinions matter, too.
On public radio, the only one who's allowed to have an opinion is a man who's not going to live very much longer. And that's Daniel Schorr. He's the prince of opinions on public radio. But they blow their wad with him.