Q&A with: Older Worker of the Year Rose Arthur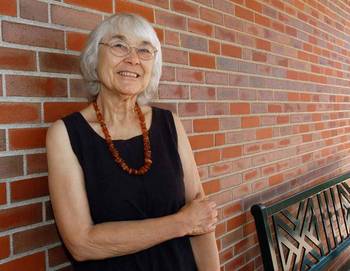 Dr. Rose H. Arthur, executive director of the Rivier Institute for Senior Education, or RISE, was pleased to hear earlier this year that she had been named New Hampshire's Older Worker of the Year by Experience Works, a national organization dedicated to meeting the training and employment needs of the mature workforce.
Arthur – who will be honored with a Prime Time Award at an October ceremony in Washington, D.C. — insists, however, that the award is actually recognition of the success achieved by RISE, the program she began nine years ago with hopes of providing quality continuing education for senior citizens in the greater Nashua area.
RISE today has more than 400 students over the age of 55 who attend classes on everything from Beginning Computers and Microsoft Word to Ethics and Morality and Anatomy, Physiology and Wellness.
"RISE is much more than just classes," said Arthur. "This is a community here. It's a place where people come not just to learn but also to share their experiences with others and to socialize. They have strong bonds here."
Working is just part of life for the 75-year-old Arthur, who entered the workforce as a teacher at 18 years old and sees little reason to stop now.
Raised in a poor rural section of Illinois, Arthur entered a convent at 14, spent 25 years as a nun and earned a doctorate in theology from Berkeley. She has taught in one-room schoolhouses, on television in America Samoa and at Harvard Divinity School.
Prior to developing RISE, Arthur was dean of Rivier's undergraduate evening school. Before that, Arthur was dean of Heritage College, an American Indian college in Washington State.
---
Q. Do you think employers and the public in general have an accurate view of today's seniors?
A. I know there are certain employers that look with great regard on senior employees. I don't know why there is a sense that seniors are too old for jobs. Employers are wrong when they won't look at seniors in a great light.
Q. Do you see the role of our seniors changing?
A. Clinton and Bush just hit 60 – I never look at those people as ready for retirement. I think things are changing because we simply don't recognize elderliness in those turning 60. People are staying healthy longer. I do think that things like retirement benefits and health care will have people begging to work longer.
Q. What contribution do you see yourself making in perpetuating these changes?
A. Maybe the fact that I'm still here and nobody here even thinks about me leaving will have an impact on another older worker. Maybe others will begin to see seniors in a new light.
Q. You've always been an educator. How has your view of education changed over the years?
A. Technology has really changed education for both the young and older students. By making education available to our seniors they may have the opportunity to learn about something they missed out on when they were young.
Q. What do you think is the greatest benefit of continuing education for people as they get older?
A. Medically speaking, all the research suggests keeping your brain active is as important as keeping your body fit. When you can combine these two you have the best of both worlds.
Personally, being together for learning is the greatest part. My students tell me this
is the best part – being together with friends to counter each other's opinions and share each others thoughts.
Q. With RISE located on a traditional college campus, is there a benefit to mixing younger students with senior students?
A. There's a great benefit. We would like to do more of it. We've had situations where our psychology students will interview some of our senior students for their classwork and some of our seniors have been invited to share their personal perspective in a class on 1940s literature. But it's also great just being here together. It's good for our younger students to see our seniors being happy just going to school to learn for their own personal development.
Q. What advice on enjoying life as a senior do you have for others?
A. Stay active both mentally and physically, for sure. Keep a circle of friends to get you through the hard times – there are bound to be some. Maybe write your memoirs. Give posterity something to remember you by. And remember, you've got to keep yourself in the limelight – you only have one life.