Q&A with: NPR President Kevin Klose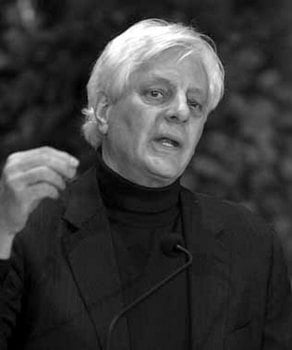 From the nation's capital to Munich, Germany, and the Midwest to the Czech Republic, the career of National Public Radio president and CEO Kevin Klose has carried him around the world and back.
A cum laude graduate of Harvard University and former editor and national and foreign correspondent with the Washington Post, Klose also served as president of Radio Free Europe/Radio Liberty and director of the U.S. International Broadcasting Bureau before joining NPR. He earned the Overseas Press Club's Cornelius Ryan Award for his book, "Russia and the Russians: Inside the Closed Society" and has co-authored four others.
A farewell party for longtime NHPR President Mark Handley recently lured Klose to Concord, where he took time to talk before joining in on the retirement celebration.
---
Q. Given your history with radio, what do you think listeners find so engaging about Public Radio?
A. Public radio is so amazing. You can't see it, you can't watch the story unfold. It's a medium of imagination. It's narrative, there's one person telling a story.
One day I was driving down the New York Thruway, it's full of slush, there are tandem trailers passing me and I'm hanging on tight to the steering wheel. Then I realized I really wasn't tense, I was holding on so tight because I was listening to "Morning Edition," to this Cambodian woman who had written this heart-wrenching memoir, and there was a pause — it was this silence between the interviewer and the woman that really got to me. That's the power of the thing.
Q. At a time when radio seems to have become so homogenized – you can listen to pop stations from here to the West Coast and they all sound the same – what keeps public radio interesting and vibrant?
A. We have 26 million listeners worldwide, and they tell us what they want to hear. They tell us they want more foreign news coverage and more in-depth coverage. And we listen and we give that to them. And all the public radio stations have local programming, programming that has direct meaning to their listening audience, that gives us the distinctive non-imitated presence.
Q. NPR has partnerships with 780 independently operated public radio stations. While that may seem like a lot, it really isn't, given the thousands of public stations and growing number of satellite stations out there. How does public radio remain competitive?
A. We've done extremely well delivering fact-based journalism and journalism based on context, not just headlines. We're able to focus on things other than profit centers, and with so many of the entertainment and multimedia conglomerates that's just not the case.
The news and programming listeners get on NPR and NHPR is based on fact, and you can get it for free.
Q. About 2 percent of NPR's funding comes from the government, in the form of grants from the Corporation for Public Broadcasting, the National Science Foundation and the National Endowment for the Arts and Humanities. There are those who think the time to put an end to government funding may have come, what's your view?
A. First, it's important to remember the majority of this money goes directly to public radio stations in the form of grants for specific projects and programs. Local stations typically receive between 12 and 15 percent of their funding from CPB. There may be those stations where eliminating this type of funding might be realistic, but we have to remember Congress and a half-century of administrations have made a commitment to build this infrastructure, and CPB has been major funders.
Q. Speaking of funding, NPR received a wonderful gift from the widow of McDonald's founder Ray Kroc a couple of years ago. Where does that stand?
A. It was an incredible gift — the biggest in NPR history. Joan Kroc left NPR $235 million in the form of an endowment. The capital can't be spent and is in very conservative investment pools. This gift has allowed us to create a full bureau with three people in Baghdad – it costs tens of thousands just to keep them safe. It will also help us with foreign coverage and has allowed us to develop three fellowships for radio journalism and to build on our local news capacity and initiative.
Q. How many foreign bureaus does NPR have and how does that compare to other news organizations?
A. We will be opening another China bureau – this one in Shanghai – and that will bring the total number to 17 foreign bureaus, four times what CBS has. Only CNN, Reuters and the Associated Press have that many. But this is not a numbers game. The real purpose behind this is that our listeners want foreign news. Wars for energy and diamonds and ethnic wars and pandemics of AIDS and malaria — we think that's important to cover.
Q. The accusations that public radio is biased are ongoing. I heard someone comment recently that they thought it had gotten soft in its coverage. How do you respond to that?
A. That's fascinating. I think our coverage has gotten deeper and sharper. Our coverage is not mainstreamed. It is not just headlines. Our journalists are there bringing our listeners first-hand accounts directly from people making the news and living it.
Q. How do you see future technological changes affecting public radio?
A. A great example is this new podcasting. NPR's "Story of the Day" is now No. 1 in all of podcasting. In the nano-life that podcasting has had, I think this says something. I think we will rise together.