Q&A with: NHPR President Mark Handley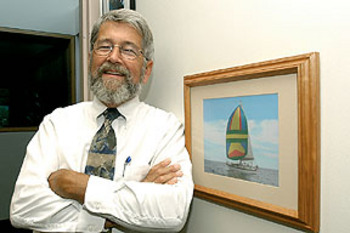 Mark Handley, president of New Hampshire Public Radio since 1990, will retire in mid-October to begin a long-anticipated trip around the world with his wife Judy aboard their 42-foot Tayana sailboat.
Handley has had careers in both teaching and broadcasting. He was founder and manager of a public radio station in Salisbury, Md., while a member of the faculty at Salisbury University. During his tenure, NHPR has gone from one station to a six-station network with three translators statewide, while business underwriting has grown to about $2 million annually.
---
Q. What do you see as the most significant changes to New Hampshire Public Radio during your 15 years here?
A. After I'd been here a year and a half or two, I thought it was time to make some changes, that there were in fact some things that were keeping us from being more successful. At the time I believe our audience was maybe 45,000 or something like that. We decided to focus more on classical music and do it by eliminating the jazz and folk music programming. We took the proposal to the board and the board agreed to it and without much more thought than that, we said "OK, let's do it," and we did it.
Q. What kind of response did you get to the changes?
A. The resultant outcry, especially from the folk music people, was pretty severe, so much so that the board decided we needed to have a place where people could air their grievances about it. So we opened up Representatives Hall and they filled it, standing room only, balcony as well, 500-some people. And for the next couple of hours, there were folk songs sung about us, there were poems read about us, composed for the occasion. We were labeled racist, because we were getting rid of any kind of ethnic music and just going with dead white men. It was a pretty horrible night, all in all.
Q. A few years later, you got rid of the classical music as well.
A. In 1994-95, we developed a whole new mission plan. (The board) basically came up with a plan that said New Hampshire Public Radio will be moving from being performances punctuated by information to information punctuated by performances. There was a definite move in that direction.
At the same time we started "The Exchange" in 1995, and that became an extraordinarily successful program and showed that we were capable of providing the kind of high-quality, local content that people were telling us they wanted. They wanted to have better information about the state of New Hampshire and they wanted unbiased information they could rely on. So we began to build a news department during that time. We hired a person that would be an editor for us and help maintain the quality of the reporting that was going on.
People needed information. Even when it came to music and cultural things, what they needed was to know where performances were taking place, who was doing what so they could avail themselves of these things. There was not an easy way to find a lot of this information. So basically, we decided it was time to make the change.
Q. What effect did that have on the size of your audience?
A. We get listener surveys from Arbitron twice a year. We made the change in March of 2001, and in the first one we got after that we had gone from 100,000 to 160,000 (listeners) just that quickly. And we've stayed steady about there ever since.
Q. By switching to a format of news, public affairs and interview programs, were you concerned that you might sound too much like AM talk radio?
A. No. Mostly it's because it's a difference in attitude, a difference in style. We still respect the intelligence of our listeners, and I don't believe AM radio typically does. A little cliche that we've used from time to time is that we'll give you the information to help you think about the problems, but we won't tell you what to think. And I think that's probably the big distinction.
Q. What, if anything, has surprised you most about New Hampshire in the time you've been here?
A. New Hampshire is the only place I've lived where I have felt like the state, despite all our regionalisms, is more or less a community. It's like a big town, and your relationships and what you do in this state is very likely to go beyond the particular community or town that you live in.
You know, people go from Concord to Portsmouth to go to dinner. Or they have a second home in the Lakes Region. They're constantly migrating around the state, engaged in various activities. And that made me realize why the founders of this station called it not Concord Public Radio, but Granite State Public Radio. They had a vision for it covering and pulling the state together. I've just found that very compelling. I've never lived in a state where I thought it was so possible to make a difference in a community — and that's a broad community now, we're talking statewide.
Q. What difference do you think you've made at New Hampshire Public Radio?
A. I think I've helped create a culture where people are given latitude to experiment and try new things. They are sometimes successful beyond my wildest dreams. "The Exchange" was one of them. It's been wildly successful. "The Front Porch" is another. The things done locally are the things I'm proudest of.
I've never worked anyplace I liked better. Terrific board, very supportive and very directional at the same time. They know where they want to go. We've assembled a staff here that's one of the best in the public radio system. I wouldn't trade them for anything.
Q. So why are you leaving now?
A. I told Judy I wanted to sail around the world. We've talked about it on and off over the years, and we've decided if we're going to do it, we need to do it while we still have the health.
I just turned 63, and we decided we'd better get on it. In a year or two, I'll be back, looking for some way to make a difference. I'm not ready to hang up my hat yet.