Q&A with: NHHFA Executive Director Claira Monier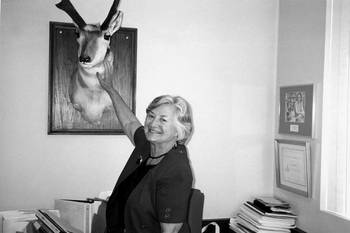 New Hampshire native and former geography professor Claira Monier knows her way around the state in more ways than one. A former aide to Republican Gov. Meldrim Thomson and the widow of Senate President Bob Monier, she is well acquainted with the politics of the state. She also served as regional administrator for the U.S. Department of Health and Human Services in the Reagan administration and for the past 20 years has been executive director of the New Hampshire Housing Finance Authority. In February, she announced plans to retire later this year from the post.
Her honors include the 2004 Citizen of the Year award from the Greater Manchester Chamber of Commerce. An avid tennis player, she is also an occasional hunter, who describes herself as "a good shot."
Q. Could you sum up in a sentence or two what New Hampshire Housing Finance Authority is and does?
A. New Hampshire Housing Finance Authority provides affordable housing for low- and moderate-income people here in New Hampshire, all the way from rental subsidies to individuals to financing huge multifamily complexes.
Q. Has it ever been a conflict philosophically for you as a Republican that your agency relies on federal dollars? Do you believe the federal government has a legitimate role in housing?
A. Yes, it does. Because government's major responsibility is to protect individuals. And there are those at the bottom who are frail and vulnerable and will always need some sort of housing. Even President Reagan preached the safety net. And there are those of us who label ourselves conservatives who still believe in the safety net.
Q. What do you think has been causing the shortage of affordable or workforce housing?
A. In my mind, it is restrictions at the local level. It came about in the '80s when we saw this massive migration of population here in New Hampshire because of our economic growth. The towns, in response, said, "We don't want any more growth. We don't want it to happen that fast. Let's put in land use restriction in place." And I think that's been a major factor in inhibiting the growth of the housing market.
Q. Municipal planners I've talked to say it's simply market forces that are driving up the cost of housing.
A. Well, every time you try to do multifamily housing, anytime you propose a rental project in any community, the planners come out and say, "No." And if you try to build a smaller subdivision they refer to them as cracker-box houses. How many towns have put in three- to five-acre zoning and in some cases 10-acre zoning? That does not lead to affordable housing.
When a project goes before a planning board, those who raise concerns are the abutters and the issue is, "We need this in my community, but not in my backyard and not next door to me." In many cases, they just don't want the growth.
Let's say for a number of years they've been looking out at this beautiful meadow. Maybe a stone wall or the edge of a forest or farmland. And all of a sudden it's going to be a housing development or a multi-family project. I think it's change they're more opposed to on a gut level.
Q. So how do the state's conservation efforts, the Land and Community Heritage Investment Program for example, play into that? Is there a conflict between the need for more housing and the desire to conserve open space?
A. Somewhat. Years ago, we approached LCHIP and some of the members who were interested in LCHIP about doing a partnership, because I think there can be a partnership. Workforce housing, affordable housing, low-income housing — whatever you call it — does not need to occupy large amounts of space. And being born in New Hampshire, having grown up in New Hampshire, I would like some of these meadows and forests and this beautiful countryside we live in preserved as well.
Q. The person who doesn't want his view of the meadow spoiled most likely blocked someone else's view when his house was built.
A. We call that the Last Settler Syndrome. The person who moves in last does not want to change the community that they envision.
Q. What do you feel you've accomplished at NHHFA?
A. When I drive around New Hampshire I see more than 400 projects that we have done to house people who needed housing. And many of them are 20 years old now and they're still as good looking. They're very attractive, they add value to a community. I can drive around the inner city of Manchester every day and see the impact we've had. And we've done some of the same for communities all over the state.
Q. Why are you retiring now?
A. The problem with a job like this is that you don't do it eight hours a day. It is 18 hours a day. You go home at night, and you're still worrying about the problems here. There's no getting away from that. And I'm now 66 years old. I don't have that many years left. So I bought that book, "A Thousand Places to See Before You Die." I made a list of all the things I wanted to do before I die, and if I continued working, I wouldn't get them done.
Q. Where will your travels take you?
A. I already booked a trip to Vienna in July to study the Habsburg Empire. And then I'm going on a People to People mission in India. Last January, I went to Honduras on a Rotary mission to rehab a school. And we'll go back down and maybe do a health-care mission this year.
Q. Have you thought about running for public office?
A. I think I would rather help candidates get elected. I'm too forthright and I'm not sure people would buy or would understand everything I have to say. They want short, quick answers and you have to be absolutely right.
Q. You also don't seem to have the loathing for bureaucracy that many Republicans express.
A. Well, that bothers me some. Because in any society you need a structure. It is that structure that makes us civilized. To me, if a bureaucracy is functioning well, it is a sign of a very healthy society.
Q. Since you're about to retire, perhaps you wouldn't mind sharing your assessment of the Bush administration.
A. I thought they would really follow through on the conservative agenda. I think the way the war has been mishandled — it wasn't so much winning the war, but putting the country back together afterwards.
Q. Could they use a director of a Housing Finance Authority over there?
A. They need economic development directors.