Q&A with: Moore Center Services CEO Paul Boynton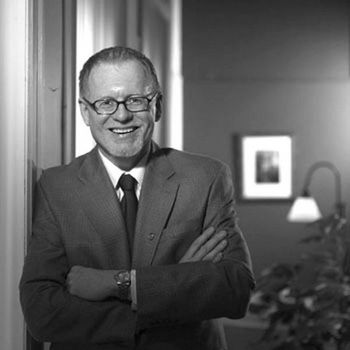 Paul Boynton, president and chief executive officer of Moore Center Services in Manchester, began his career in human services in 1971, two years before receiving his undergraduate degree in social work from the University of New Hampshire. Since then, his passion for the field has continued to be fueled by a single goal – "to provide individuals with the opportunity for a better life."
Today the power of that single goal is clearly visible in the evolution that has taken place at Moore Center Services since his arrival in the spring of 1997, following 25 years of service at Easter Seals New Hampshire.
MCS has been providing community-based services for individuals with developmental disabilities and acquired brain injuries since 1955. It became the Area Agency for the greater Manchester region in 1982.
Today children of all abilities play and learn together in the agency's childcare facility, developmentally disabled individuals — once housed in group home settings now live as members of happy families in homes throughout the region — holding down jobs and earning their own income. And elderly residents of all abilities are remaining in their homes longer with in-home support or living with caring families rather than nursing homes thanks to "Moore Options for Seniors" an innovative program introduced by MCS last year.
Q. What was it that drew you to human services originally?
A. I always wanted to work in human services, but I never really had a clear path. I grew up on the Seacoast, and my mother would bring my brothers and me to Pandora's each summer to get a new sweater for school – it was like coming to the big city. I just loved it! So when Ken Snow offered me a summer job at the mental health center when I was in college it was just perfect. From there things just sort of unfolded. It was the right thing at the right time.
Q. We live in a time when success is often defined by the size of your paycheck or list of possessions. Do you find that you measure success with a different yardstick?
A. President Clinton said, "If you can say that the people you sought to serve are better off when you stopped than when you started, it will all have been worth it and more." That is always driving me. It's a perfect way to define success.
Q. MCS has really diversified under your tenure. What has this meant for the agency?
A. It's been good for us, the people we serve and the community. I feel strongly about the need for an organization to be part of the community at large. I find if we ask, "What can we do for the community?" we find the community is always there for us. And our success has really been based on what people have done for us.
Q. MCS has moved away from the group home model of care. What impact has it had on your ability to provide people with the opportunity to build better lives?
A. We moved away from group homes and introduced more enhanced home care, originally because it was difficult to maintain enough staff. Now individuals live with families. They live typical family lives, they eat when they're hungry, they decorate their rooms the way they like, they work. There's a difference in taking care of somebody and creating an opportunity for them to have a good life. It's like the difference between taking someone to a movie and asking them 'what would you like to do today?' It changes the dynamics.
Q. The shortage of direct care providers is being felt throughout New Hampshire. How are you addressing that at MCS?
A. I think this is the single greatest challenge facing the whole human services world. Wages are low, demand is high, and there's just not enough training. The University of Minnesota introduced the College of Direct Support, a home-based online study program designed to educate and train direct care providers. We've brought it to New Hampshire and have already graduated four classes. We've already seen a reduction in turnover, and an increase in the sense of pride in this profession. This program will improve the skills of our workforce, which will in turn improve wages and the quality of care.
Q. Tell us about the organization's upcoming move.
A. In August we will be moving to our new space in Mill West across from CMC hospital in Manchester. We will be in a space appropriate for our work with great space for the people we serve. It's a very exciting time for us.
Q. What do you do for fun?
A. I love what I do so much. The line between work and what I do for fun is really blurred. I honestly can say I cannot wait to get to work. When I do have time away I really love being with my kids. We're all very close and have a lot of fun together. I've been trying to read more l and I love the theater — it has that same great energy.
Q. How about your pending television debut?
A. I'm hoping to work with Grace Sullivan at MCTV to launch a new program called, "Yes!" I'll be talking with people from the community known for their optimism. "Yes" is such a powerful word. If you just start with 'yes' incredible things happen.