Q&A with Michael Grondahl, Co-founder of Planet Fitness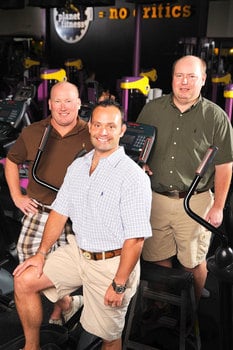 While fast becoming a national brand name today, when Michael and Marc Grondahl opened their first Planet Fitness location in Dover in 1992, Michael had what he called "an unfathomable" dream of perhaps growing to 100 franchises.
The goal was still far away by 2003 when there were only four Planet Fitness locations, but the Grondahls and Chris Rondeau, the chief financial officer, were developing a business model to tap into a growing market for a high value but low-cost approach for fitness club franchises.
But the rest, they say, is history. Newington-based Planet Fitness has grown dramatically to more than 400 clubs in 40 states, a membership base of more than 2.5 million who have validated the no-frills approach. There are hundreds of more franchises in development.
Planet Fitness has also generated buzz with a witty, edgy advertising campaign that takes target at unwelcome demographic — fitness and weight lifting fanatics in love with their own workout regime, if not their own bodies. One of the television ads that has gone viral on the Web with a muscle-laden man sounding vaguely like Arnold Schwarzenegger mindlessly repeating the line "I pick things up and put them down."
"We aren't judgmental 99 percent of the time," Michael Grondahl told NHBR during a recent interview about the company and its "Judgment Free Zone" motto. "Except for those people, and for them we are really judgmental."
Q. Why did you choose to get into the gym business?
A. We grew up lifting weights and we always had this dream to own one. When we finally bought our first one — a former Gold's Gym in downtown Dover — I remember writing down that our goal was to own 100 gyms, which at that time was pretty unfathomable.
Q. How did your plan develop?
A. It took us 11 years to build the business model. It's a model that couldn't have been built anywhere but New Hampshire or somewhere that was demographically similar. All of the technical aspects we implemented during those years began to work as soon as we started a more aggressive franchising plan.
Q. When did you know the plan could work?
A. We knew we were going to be successful when we started giving failing gyms our business model to use and they began to succeed. There were also three Gold's Gyms in New York in White Plains, Bronx and Yonkers that were barely surviving and demographically were much different from New Hampshire — I think that there are more people in a three-block area than in entire towns in New Hampshire. Under the Planet Fitness brand, they have become very successful. It's grown like that exponentially across the country.
Q. Are there any surprises?
A. There's still a huge untapped market and we're just scratching the surface. Sometimes it's a little hard to fathom. I never believed we would be successful in New York City and you wouldn't have thought Des Moines, Iowa, would have worked. And we are absolutely killing it in El Paso, Texas.
Q. Why do you think this model has caught on?
A. For years the industry was missing the mark because they were selling the unattainable ideal of beautiful bodies. Over the years hardly anybody was making money with a plan that could never appeal to the general population. They appealed to a small group that acted like idiots, used steroids and wanted 2 percent body fat.
Q. Why has your advertising struck a chord?
A. We had some very creative ads in the late 1990s with the same edge, but we weren't well known. Now it has gone to a whole new level. We believe it's much easier to say who we don't want as a customer than try to explain the satisfaction of our members.
Q. How has your role changed?
A. I deal a lot more with attorneys than I care to. When a company gets to this size there's a lot of franchising law issues you need to deal with. We have a full-time attorney and trade marketing is one of our biggest issues. As a matter of fact, we found out a competitor's gym in Pennsylvania is using our "Pick things up and put them down" line on a billboard. We constantly police the market because we're being copied to a degree I can't even believe.
Q. Have you been approached to sell your company?
A. There is one investment banker who calls once a week telling us to go public. We have fielded probably five super-serious offers and for whatever reason it just doesn't feel right. We can probably reach between 4,000 to 5,000 units and in two years. We believe we will have the biggest fitness club company in the world. I can't say we never will sell or go public, but we have way too much work to do and don't have any intentions of selling.