Q&A with Marc Sedam, UNH Office of Research Partnerships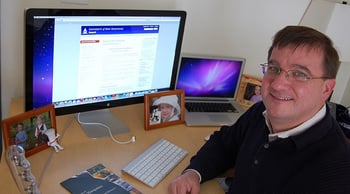 Marc Sedam, executive director at the Office of Research Partnerships and Commercialization at the University of New Hampshire, is the first to admit that picking commercial winners and losers is at best an imprecise art. He should know.
When he managed the life sciences technology portfolio at University of North Carolina's Office of Technology Development, he oversaw the growth of new company formation to second in the nation in 2001. But Sedam, a research chemist by training and entrepreneur by inclination, wanted to halt one biotech effort because he couldn't see the commercial potential. The UNC professors behind the research passionately opposed his decision and prevailed in getting Sedam to support the project. Ironically, Sedam eventually became the CEO of the company, Qualyst Inc., Qualyst Inc., a drug transport technology firm.
"I realized that I'm not that clever and that everyone has a blind spot. Anyone who tells you they know who the winners and losers will be is a liar," said Sedam who joined UNH in the fall of 2010 and is charged with transforming UNH's intellectual property commercialization efforts into a much greater revenue generator and economic development engine for the state.
Q. What is your job?
A. In short, my job is to be the steward of UNH's intellectual property and make UNH money. Our task is to be the translator to figure out what the idea looks like scientifically, whether it is patentable and can have intellectual property protection. We also determine if there's a commercial application and market for it.
I speak business to the scientists and science to the business community. And then I become a salesman working to find one partner or multiple partners and what kind of exclusivity rights we should offer for the commercialization of these ideas. We are placing a lot of bets and taking educated and sometimes big risks.
Q. Why did you decide to return to academia after working successfully in the private sector?
A. I saw there was an opening, and the more I investigated it, the more interested I became and thought that maybe I could help. It's probably true of all universities that they have a lot of brilliant people and a collection of iconoclasts, and I saw a major opportunity here.
I was struck by how President Mark Huddleston and everybody in the administration that was involved were saying the same thing about the need to better leverage UNH's $120 million research effort and to change the history of UNH not making money.
There was a major effort to make sure ideas were getting out to the market. I took a leap of faith, and after a year, it's turned out better and offered more opportunity than I imagined.
Q. What have you been focused on?
A. During the first year, my initial focus has been to connect with faculty and to let them know we are here and what we can do for them. One of our immediate goals is to increase the number of disclosures from our faculty. A disclosure is the first communication step to let us know what they are working on and what ideas they might have.
Q. What are the benefits for the state economy?
A. Commercialization is a key strategic component to the UNH mission. Our goal is to become even more focused on commercialization of our intellectual capital and working closer with industry. In part this is to remind the state that UNH is here and we have an enormous economic contribution to offer.
Even in this climate, New Hampshire has a good economy given that overall, UNH is a pretty minor participant. It will take time, but when we take our $120 million research base and plug that into the state economy, the growth could be astronomical.
Q. What did you learn on the trade mission with U.S. Sen. Jeanne Shaheen to India?
A. Dr. Lisa MacFarlane and I were the UNH representatives on the mission to India. We visited as many universities as possible in New Delhi, Kolkata and Mumbai to better understand the culture of higher education in India. In turn, we could begin to formulate a strategy on relationships with Indian universities for student exchange, faculty exchange and the potential for longer-term collaborations with Indian universities.
Q. What are your expectations for UNH commercialization potential?
A. We won't become a Silicon Valley, Cambridge, or even the Research Triangle where I came from in North Carolina. But I think a good model is the University of Wisconsin at Madison, which has a thriving technology and entrepreneurial sector that is connected to the university's ideas and people.
Even the best of tech technology transfer efforts only brings in $85 million, and we don't have a medical school that other larger schools have. Right now, our lead revenue generator comes from a brilliant geneticist and we collect royalties literally one seed at a time. Our $300,000 in annual revenue from commercialization needs to be more than that. We have great growth potential, and are just at the tip of the iceberg.