Q&A with: Manchester car dealer John Xiggoros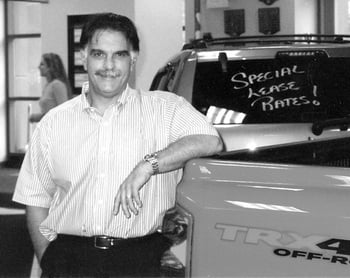 John Xiggoros doesn't own the Manchester dealership at which he has been general sales manager for what he says have been "21 fun-filled years." But his is the name, the voice and the face most often associated with Bonneville & Sons in the public's mind. He's also very active, both on his own and on behalf of Bonneville, in a number of civic and charitable activities.
---
Q. Why do you like to sell cars?
A. Well, first of all, the Bonnevilles are great people. We really are genuinely concerned about our clients. And secondly, in car sales every customer presents a unique set of circumstances. So every customer has individual needs, and we try to fill those needs. And the fun part comes in getting the right car at the right price.
Q. Do you find it difficult to anticipate taste in cars — whether the public is going to want the small fuel-efficient car or the bigger utility vehicles and how much of each to have on hand?
A. Well the factories, the manufacturers — all brands — spend hundreds of millions, probably, trying to determine that. And sometimes they're right and sometimes — like the Edsel — they're wrong. There have been cars that have been released that were anticipated as huge successes and failed and there have been releases that were not expected to be great and they turned out to be fantastic products.
The case in point with Chrysler is the mini-van in '84: It was a whole new concept, and now it's our single biggest-selling vehicle.
Q. It has supplanted the station wagon as the family vehicle?
A. The mini-van, the Caravan, the Town and Country, it's a strange vehicle in the sense that it appeals not only to families, but to people who are very active and have a lot of outdoor activities. I mean, people like the driving height, they like the flexibility. They like the space. What other car can you buy where you can carry your refrigerator and seven people?
Q. And if you're traveling alone, you can sleep in the thing.
A. Yeah, you can. And now we have these stow-and-go seats, and we're the only manufacturer that has them, where you pull two cords and everything disappears into the floor and the floor is flat. There's no more lugging seats.
Q. But couldn't what someone is going to want to buy today be different from what he ends up buying three months from now, largely because of fluctuation in the oil and gasoline prices?
A. The media made a big to-do over the rise in gas prices. But sales have been off across the board for the last year. On a percentage basis, when gas was up over $3, sales of the SUVs and the pickup trucks weren't affected, at least with the Chrysler-Jeep-Dodge line.
You know, if you're an avid outdoorsman, a fly fisherman or a skier, you're not going to get to where you're going in a Corolla, you need a Jeep.
Q. And it hasn't gotten to the point where people cut back on their traveling, has it?
A. Once again, it's not my area of expertise, but according to AAA and what I read on the Internet, people were driving more than ever and there was not a dramatic decrease in car travel or car pooling when gas was up over $3.
But the reason we like lower gas prices is it gives people more disposable income. There are really only two reasons why someone buys a car: need or ego. Someone has an older car and needs to replace it. That has to happen. Someone has twins and they're driving a little foreign economy car, then they have to replace it with a mini-van. If someone's ego demands that they have the new Dodge Charger or the Ford Durango or any of these more stylish cars or high-performance cars, a lot of that is based on ego. Lower gas prices really don't affect the need buyer, but it does affect the ego buyer.
Q. You were born in New Hampshire.
A. I was born at the Elliot Hospital in 1953. I went to Central (High School) for two days and was asked to leave.
Q. Why?
A. I was just too good for them. (laughs) I had some behavioral issues. I was very fortunate that through one of my dad's friends, who was a police captain in Manchester, I got a scholarship with Tilton School, which was a great four-year experience. I went to the University of New Hampshire as an undergraduate, got an MBA from the University of Alabama.
Q. What did you major in at UNH?
A. At UNH, it was English and political science. When I first got out of college, I spent three years in corrections, running treatment programs.
Q. At the State Prison?
A. I worked at the New Hampshire State Prison. I was the director of pre-release services. I was general manager of a KMS distributorship, which was a big beauty and barber supply company for several years, and then I came to work here in 1985. I've been here ever since.
At the time, I was looking for something that offered a little more income and I liked the fact that everything that happens here everyday is different. I'm not stuck in a cubicle, shuffling papers, doing the same routine. I'm kind of dynamic, I'm a little high-energy so it was a nice fit.
Q. Yours is the industry from which the phrase "sticker shock" originated. Do you have to deal with that often?
A. In today's world with the Internet — and the Internet is a huge part of car sales — 95 percent of the customers who walk through the door know what the price of the car is. So the sticker shock is not so great. Payment shock is another issue. The average car payment in this country now is almost $500 a month. When I started in the business in '85 the average car payment was $120, $130 a month.
Q. The prices of cars have soared in the last 10 to 20 years. What is the lowest price you can find for a new car now?
A. You can buy a fairly well equipped Kia or entry-level Chrysler, Dodge or Jeep for anywhere from $12,000 to $16,000. Yet I have cars on the lot — and I never thought I'd say this when I started in the business of representing Chrysler, Jeep and Dodge — we've got vehicles that are over $50,000. Conversely Mercedes Benz sells every one of their $80,000-plus cars. And Lexus. And that's where the ego comes in.