Q&A with Humorist Glenn Currie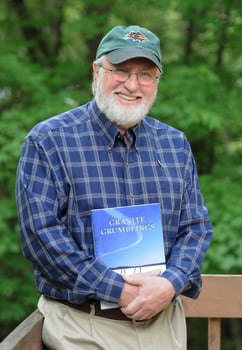 Give Glenn Currie credit for understanding the New Hampshire way of doing things. A few years ago the humorist and longtime columnist suggested a few novel approaches to dealing with the state's perennial problem of raising revenue in including a sliding-scale "lying politician's tax" and an "adultery tax."
Currie, a Stoneham, Mass., native and a 1965 Dartmouth graduate, left a life in "corporate America" in 1986 to settle in Concord, having spent much of his youth in New Hampshire.
His new book, "Granite Grumblings: Life in the 'Live Free or Die' State," covers many of the aspects of living in New Hampshire, large and small.
He talked recently about his book and a vanishing way of life in the Granite State.
Q. How do you define the "New Hampshire Advantage?"
A. One of the real advantages is education. I don't think it's atypical when you have small children to look and find several good school systems and we did. I had grown up in public schools and that was important to us.
Look at the beauty of the state everywhere you go. From Concord you can go to real mountains, and the change of seasons is always wonderful.
Q. What's your assessment so far of this legislative session?
A. I've stayed away from it and don't like to talk about politics (laughing).
I'm fiscally conservative, but I believe in being left alone from a social standpoint. Sometimes it looks like we've swapped one group of wing nuts for another.
There's more rancor and angry debate and too much talk about incidental projects. Why bring guns back into the Statehouse? I just don't understand that at all, and wonder why there isn't more focus on fiscal issues.
Q. What has changed the most since you arrived in 1986?
A. One of the great things about New Hampshire is that it's not Massachusetts. We don't have a lot of corruption (at the State House) because there's not a lot of money to steal. But with more people coming to New Hampshire, they are starting to bring bigger city problems with them. They moved here for the change of pace but still want the same level of services they have in Massachusetts and it's changing the identity of the state.
Q. What's disappearing?
A. I wrote about when a local neighborhood store, Phil and Larry's, closed, we lost a friendly atmosphere and a place where Phil knew your name and you had time to play games.
We're losing the really wonderful sense of local connections in our neighborhoods. Our houses are closer together, but neighbors are farther apart.
Q. What made you decide to leave the corporate treadmill?
A. I had a very stressful, demanding job that required a lot of travel. One day as I was getting ready to leave on another trip, my daughter asked if I was still going to be her daddy. Within a year we had moved here and I had my own consulting business.
Q. What do you hope readers get from your book?
A. It's about living up here and the nice things we see and the strength of character, the beauty of the blessings of living in the state. These are good-natured grumblings. This is the best place in the world to live and we should be appreciating it.