Q&A with: Human resources entrepreneur Delise West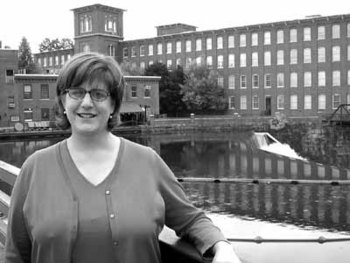 A few years after Delise West moved from her native California to the Seacoast region, the experienced human resources professional decided she didn't want to return to the business world she knew well.
"The more I interviewed, the less excited I was about going back and working as an insider," West said. "I really didn't want to get embroiled in the politics (of corporate life) again."
Though friends considered her slightly "crazy" for starting her own business in the midst of economically uncertain times, West saw an opportunity — more companies were outsourcing many functions, and small businesses and start-up companies were in need of human resources consulting.
The result was Human Resource Partners, which West has run as a one-person operation since its inception. But the volume of her work has reached a "threshold" point, and the company may grow much faster in the next few years.
Two of her Portsmouth-based clients include Hatchling Studios and Global Technical Talent. West said they are among many small but growing companies that have turned to outsourcing firms for help with vital business practices such as recruiting, retention and compliance.
Before she moved to New Hampshire, West was the human resources director for a large San Diego-based biotechnology company.
---
Q. Who was your first client?
A. A kennel in Rochester. I originally wanted to work with high-tech or biotech firms, but when you first start out, you do what you have to do. They were a fantastic client to have, and it helped me get my name out there.
Q. Why do companies call you?
A. Many of them are going full steam ahead and don't have time to deal with these (human resource) issues. Then one day they say, "How did we get here?" and realize they need help. The founders and managers of these companies focus on their core business needs. These companies have the same HR needs as larger companies, but they don't have the same resources.
Q. What is the top issue?
A. Employee retention. I spoke recently at the Software Association of New Hampshire conference, and that was the main topic there as well. It's crucial for growing companies to be able to get and retain top talent.
Q. How big are the companies you work with?
A. They range in size from one person who is looking to hire and learn more about compliance issues or how to create a company handbook to companies with as many as 65 employees. I work with a health-care company and their human resource department on workshops for conducting proper interviews.
Q. How do you learn about a company?
A. I like to use employee surveys to see the landscape, to learn about the workplace and (how) the company communicates its vision to its employees.
Q. What's the biggest misconception in general about HR departments?
A. That we are touchy, feely and fluffy, holding hands and singing songs around the campfire. It's a huge misnomer because we are truly focused on business success.
Q. Why did you get into human resources?
A. I studied psychology at San Diego State, which is not an uncommon major for HR professionals. I worked for a temporary agency hiring and placing workers, and I enjoyed it. I was also encouraged to take a two-year certification program in HR by the owner. What I like is the balance of understanding business and being able to interact with people.
Q. What's been one of the biggest changes in the human resources field in the past five years?
A. Outsourcing, which drove me to start my own business. And I've learned that it continues to generate a big buzz. To save costs, more companies are outsourcing more of their HR functions, like benefits, recruiting and retention. I think it's a trend that will only continue to grow.
Q. What has been a surprising development in your business?
A. I've become noticed by venture capitalists. I was recently hired by one who asked me to take part in the due-diligence process as he looked to buy a company. It's a smart move, because when you acquire a company you get its worth, its products and its people.
Q. What's the best book you've read lately?
A. "Good to Great," by Jim Collins. It's a fascinating book about his conclusions from 10 to 15 years of studies into what makes companies successful.