Q&A with: Granite State College President Karol LaCroix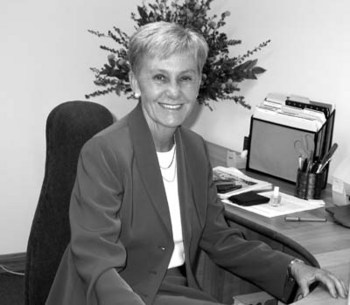 Dr. Karol LaCroix once looked through microscopes as a medical technologist. Now she views the world through a much larger lens as president of the newly renamed Granite State College, formerly the College for Lifelong Learning.
Sometimes forgotten as New Hampshire's fourth public institution of higher learning, Granite State offers a wide variety of traditional and non-traditional classes, including a self-designed bachelor's degree. Some 44 percent of students are self-designed majors, including 258 of the students who graduated in June as the first class to bear the name "Granite State College" on their diplomas.
The 60-year-old educator says there's much more taking place than just a new logo at the former CLL. With increased collaborations between businesses and the state's three other public institutions of higher learning, innovative programs and a strengthened vision, LaCroix is striving to put Granite State College on the national map at the forefront of adult education.
Q. Why did the college change its name from College for Lifelong Learning to Granite State College?
A. The major reason for the name change was because students and alumni were having difficulty explaining what the College for Lifelong Learning was all about. We wanted something that reflected the four-year, degree-granting, fully accredited by the New England Association of Schools and Colleges institution that we are.
The new name really does reflect our statewide mission. We are located in nine different communities throughout the state. "Granite State" really speaks to that.
Q. Is there anything else new besides the name?
A. The name change is really a catalyst for an expanded mission. This college is going to take a leadership position in providing access to public higher education for folks who either can't afford to or are unable to go to a traditional campus.
We are going to offer what we call the BOLD program, the Baccalaureate Online Degree program. For adult learners with busy schedules, they will be able to get their degree without the constraints of having to meet in class every week.
We are increasing the number of hybrid courses, ones that have some online components, but also the traditional classroom-based experience.
Because online learning is not for everyone, we will continue our traditional classroom delivery, including different options, such as weekend intensive courses or weeklong intensive courses.
We also want to work more in collaboration with the other University System of New Hampshire institutions. If there's a need for a program that Granite State doesn't offer, we will work with our sister institutions and bring their program to another location — either through technology or face-to-face or through hybrid — to facilitate the delivery of that program.
Q. How will potential students know about all your offerings?
A. What I call the "bells and whistles" of the Granite State program is our call center. Starting this fall, you will be able to dial an 800 number, and there will be a live person at the other end. That person will tell you all your options for the various degrees and programs available through the University System of New Hampshire. There will be a Web site as well. We will also be providing general information like financial aid, academic calendars and pricing structures. We're going to be giving you information that would be very hard for you to find otherwise.
It is our intention to hire very qualified people who can be well educated about what the university system offers, about public higher education in general. We will also refer folks to the programs at the tech college when it's more appropriate for that kind of access.
Q. You were previously the dean of UNH-Manchester and became president of Granite State College last August. What attracted you to this position?
A. What I found attractive about this position was that it was like UNH-Manchester but on a much broader scale. The two missions are very much alike, that being to provide access to that population of students that are combining work and family duties with school.
Granite State College is also very innovative and flexible. If there is a need for a program, the college can respond rather quickly to put something together. I really liked the philosophy of the school; it focuses on what the needs are and how we can meet those needs.
Q. What's been the most challenging aspect of this position?
A. I think the travel. There are nine different locations. I got my car in October, and I already have 28,000 miles on it.
I made a commitment to be visible beyond the Concord center, so, I've really made an effort to go to Gorham, to go to Littleton, to go to Claremont. That way, I can get to know the staff, meet with the students and get to know people within the community.
You learn by being there. It's really been the uplifting part of the job.
Q. Are you going to be increasing discussions with the business community?
A. Absolutely. In fact, Granite State has been working with the Mount Washington Valley Economic Council to locate in the new Tech Village in North Conway. Not only will we have Granite State and its partners, Plymouth and the state community tech college in the education wing, but on the other side, there is going to be a business incubator with start-up businesses. There should be some great opportunities there for sharing resources and expertise, and to work together to improve the economy of the North Country.
It's going to be a nice model, I think, for other locations.
Q. Where do you want Granite State College to be in five years?
A. In five years, I would like to see Granite State increase its enrollment numbers. We now have about 2,600 students. So I'd like to see that number somewhere between 4,000 and 5,000.
I'd like for Granite State to have a more diverse population. The state is changing, particularly in the southern tier. Our student population ought to reflect the changing demographics of the state.
It is also very doable for us to become nationally recognized as a leader in adult education. It's our vision statement. Some might say that's a lofty goal, but I really see that we have the capability with the online courses of expanding beyond the state of New Hampshire.
We can also take some of things that we're doing here and share them with colleagues on a national basis, so that we are developing not only a statewide reputation, but can aspire to be a national leader as well.
Q. Like the University of Phoenix perhaps?
A. I think so, but one that's maybe a bit more affordable and one that has that public institution focus, one that's attuned to the individual.