Q&A with: DRED Commissioner Sean O'Kane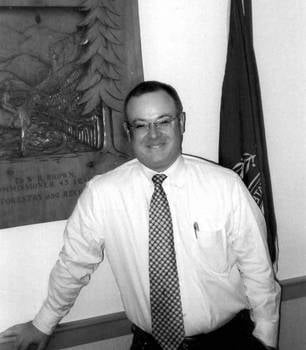 As commissioner of the Department of Resources and Economic Development since May 2004, Sean O'Kane presides over 250 full-time employees in the department's four divisions — Economic Development, Travel and Tourism Development, Forests and Lands and Parks and Recreation.
A native of Dover, O'Kane, 50, managed hotels in North Carolina, New York and Massachusetts before taking over in 1997 as general manager of the Center of New Hampshire hotel and conference center in Manchester. He was nominated for the DRED post by then-Gov. Craig Benson to fill the unexpired term of George Bald, who left to become director of the Pease Development Authority. In early February, O'Kane announced his decision to leave when his term expires on March 31. After that, Gov. John Lynch announced his intention to nominate Bald to head DRED again.
---
Q. Did the governor indicate to you that he did not intend to reappoint you?
A. No. We had a talk about some of the future goals that I have, and I told him that some things have come to light for me at a personal and professional level that I want to pursue.
Q. What will you be pursuing?
A. Well, it's still early in the game. There are some projects that have been presented to me over the course of the last two years. Some were of interest, some weren't, but over the last several months some things have come that I'm pursuing. But it's still at the point that I can't talk about it yet.
Q. Do you have a sense of whether the governor might have reappointed you?
A. I don't. We never had that conversation.
Q. The two of you have been at odds over expanding development at Mt. Sunapee. Why do you believe that expansion should go forward?
A. On this particular issue, we just differ in our approach. My concern with the Mt. Sunapee question was that I felt we had obligated ourselves to a contractual agreement with the people operating Mt. Sunapee to allow for the question of expansion. But when I looked at the plan they brought to me, I rejected it. I didn't think it addressed concerns I had, and those concerns were how do you allow for an expansion and still address conservation needs and the question that was being asked in the Goshen area about the potential for sprawl?
I went back to the folks from Mount Sunapee Resort with 12 points that would have to be addressed for me to put forward a recommendation for expansion. Frankly, those 12 points address more conservation land being put aside than anyone else has talked about.
The governor and I agree these are the kinds of conversations we have to have in this state. But in this particular case, he had made a campaign pledge not to allow for an expansion. I completely respect that. That's his prerogative.
Q. Is the state doing as much as it could and should be doing to promote economic development?
A. New Hampshire, from a dollar and cents standpoint, or in terms of staff, does not have the resources that many of the larger states have. We have done a very effective job, particularly in partnership with Public Service of New Hampshire, of getting out to national trade shows on a regular basis, year after year, to talk with site selection people, to talk with CEOs, to talk to financial folks about the possibility of relocating a business or expanding a business into New Hampshire. We've been pretty effective in that. I think just in the past two years we've brought 38 new companies into the state.
We put great emphasis on the international side, particularly in the South American markets, which were brand new to us from an official standpoint. And then getting back this past October to Germany, which is historically one of our greatest trading partners, but also realizing the opportunities that now exist in the five new eastern European states that have come about since reunification.
We've already seen New Hampshire companies generate almost $32 million in trade with three countries – Germany, Czech Republic and Ukraine — since October. So that's very successful.
Q. Many states offer incentives like job training or tax benefits to lure businesses. Should New Hampshire do that?
A. I think the interesting answer to that would be we don't have to do that as much as other states because we don't charge a lot of those taxes to begin with.
Q. The business profits tax is at a fairly substantial rate.
A. Of course we have taxes, but in the aggregate, we're very favorable and constantly voted one of the best places in the United States in which to do business. And particularly when we take this message overseas, people look at us and say, "How in the world can you function with so few taxes?"
I think the R&D tax credit that's being debated right now is a positive thing, as we try to grow the research side of what we do. New Hampshire, I think has long had a pretty good standing in terms of the development part of R&D, but we haven't been as strong in the research side, and that seems often to go to the Massachusetts market, between Boston and Cambridge.
Q. What do you believe you've accomplished in your tenure at DRED?
A. I think the greatest accomplishment is bringing the four divisions to a working relationship that is much closer than before. We're able to share resources. We're able to realize that the same issues that attract visitors here from a tourist standpoint are the same reasons people want to come here to relocate a business or to move here. We've been able to more effectively brand the state in our marketing efforts, both from a tourism and economic development standpoint.
Branding is essential because people will start to recognize a common message and start to understand the value of it. There are some cost efficiencies in that. Instead of running three or four separate marketing programs, we're able to develop a more common marketing program for the state.
Q. I once heard George Bald say that DRED is "an awful name for such a wonderful agency." What do you think?
A. George is right. You know the funny line — "I'm from DRED and I'm here to help"— just doesn't resonate the way you would like it to. We've kicked around a lot of ideas and it would take legislative action to get it done, but I think if we do a better job identifying what "resources" means and if we simply add the word "natural" — Natural Resources and Economic Development, I think it's better understood. And the other benefit is you get rid of the awful acronym, DRED.
Q. Will your new pursuits keep you in New Hampshire?
A. My intent is to stay in New Hampshire. I love it. I just moved into the state. Remember, (Executive Councilor) Ruth Griffin took issue with me for living in Massachusetts. And then my wife and I built a house in Hollis and Councilor Griffin came to me and said, "Why did you move from Groton (Mass.)? It's such a beautiful little town." I said, "Well, you told me I had to."
I've had a wonderful relationship with her. She made her point and we've laughed about it every day since then.