Q&A with: Daniel Webster College President Robert E. Myers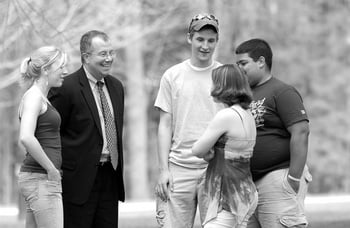 The walls in the office of Dr. Robert E. "Skip" Myers, president of Daniel Webster College, are washed in "Uplifting Yellow," an inviting, cheerful hue, and one that reflects the optimistic and innovative spirit that perhaps best defines the Nashua school's sixth president.
Adjacent to the city's municipal airport, Daniel Webster College has long been known for its aviation program. Its academic offerings, however, have evolved in recent years and now include undergraduate programs in business and management, aeronautical and mechanical engineering, digital information and social science, and an MBA for aviation professionals.
Its accelerated degree programs in business (EXCEL) and Internet options are especially appealing to the nontraditional students that make up slightly less than half of the school's student population of 1,100.
Myers, who holds a Ph.D. in higher education policy, planning and administration from the University of Maryland, became president of the school on July 1, 2005, following the departure of Hannah M. McCarthy, who held the position for 25 years.
In addition to the administrative talents he honed as chancellor of Embry-Riddle Aeronautical University in Tampa, Fla., and chief operating officer at the University of Maryland University College, Myers arrived with the ambitious goal of turning Daniel Webster College into a top-tier institution known for innovative programming and quality education.
---
Q. What one word or phrase best represents your first year at Daniel Webster College?
A. Audacious optimism. My feeling is, let's not talk about what we need to do to survive but what we need to do to be famous.
I've asked our focus groups, "What are your hopes, your dreams and aspirations for this college? Not what do you worry about when you're awake but what do you dream about?" Their ideas are wonderful, now we have to look at how we make them happen.
Q. What is Daniel Webster College's new vision, how does it differ from its previous vision and what steps will the college take in realizing it?
A. I'm not sure there was a vision previously. It was more like just scrapping year to year just for survival. Ours is now a collective vision, I'm just a channeler or a scribe. By the year 2015 we will be identified as a top-tiered school, one that offers a premier education. One that prepares our students for professional positions in international business, aerospace sciences and aviation, engineering, digital information and social science industries.
Q. How does a school like Daniel Webster distinguish itself?
A. By virtue of the product it delivers. It has to do with the philosophy we employ. Our students are exposed to theory and practice in their first week. Our flight students fly a plane on their first day. Our computer science students will be writing code and working in a collaborative team environment just like they'll be doing at IBM. We do this so our students can see the practical applications of what they're learning.
Also, you're not going to find academic programs in aviation or gaming at most institutions – we offer those programs here. Our sports management program has landed students jobs with major athletic organizations like the Boston Red Sox. This is how we distinguish ourselves.
And we're not just focusing on the traditional students, but on the working adult student as well. We don't only want to help people prepare for careers but help people advance in their professions also.
Q. It's been five years since the September 11th attacks. With such an emphasis on your aviation programs, are the effects of this event still being felt at Daniel Webster?
A. It almost crippled us. Fortunately Hannah McCarthy recognized that having so much of our school wrapped up in one program was dangerous. She got into high gear diversifying our academics and our graduate programs.
Our flight student enrollment finally returned to pre-9/11 numbers last fall, thanks to the efforts of our enrollment manager, Sean Ryan. He's an example of the culture in this place. People come in every day saying, "Oh look, I can make lemonade."
Q. What role do you see Daniel Webster playing in the greater Nashua community?
A. One observation I made when I came here was how isolated the college was, both physically and in the perception people had of it. We were at a July 4th cookout shortly after moving here and new neighbors asked where I would be working. When I told them they asked, "Where's that?" They had lived here for 20 years.
Right there, I embarked on a campaign to make myself and the college known. I'm involved with a number of local organizations and work to have organizations come here to utilize our space. It's important that our community see us as a cultural center and community resource.
We also have a very aggressive career service relationship with local companies, which allows us to offer a number of internship, co-op and job placement opportunities to our students.
Q. How is Daniel Webster addressing the rising cost of education?
A. We're providing a discount of just under 40 percent for most of our students. Most of our fund-raising efforts focus on our scholarship program because we realize what a problem education costs present. One thing I am very proud of is the fact that we've been able to keep our tuition increases below seven percent over the last few years – this is really a testament to our ability to manage our costs.
Q. Some employers have voiced concerns over the preparedness of recent graduates. How is Daniel Webster making sure its graduates are prepared to enter the workforce upon graduation?
A. Generally they have a point. We put an awful lot of emphasis on our general studies areas. It is critical that our graduates have the communication skills and the social skills they need to succeed in today's workforce.
One of the advantages to being a smaller institution is being able to sit one-on-one with a student and explain to him that one day he might have to have an intelligent conversation about an art exhibit with his boss or have to make a presentation in front of a group of engineers.
Q. What's in store for Daniel Webster College over the course of the next year?
A. We have a number of new programs in development. I'm anxious to get them through the process and hope to start introducing them this spring. One will be starting our daytime Excel Bachelor Completion Day Program in Psychology, which we hope will especially encourage moms at home to come back to school during that four hours a day when their children are at school and finish their degree.
We will also be introducing some type of homeland security program, with elements of cybersecurity and aviation security. And a third MBA program – this one geared toward either financial services or the health administration sector.
In addition, we're hoping to develop a center of excellence for aviation safety – kind of a think tank bringing risk management experts from different areas together. It's all very exciting.