Q&A with: Cosmetic dentist Ron Henderson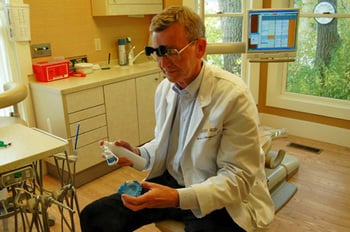 While the building housing Dr. Ron Henderson's cosmetic dentistry practice may date back to the days of Abraham Lincoln, his philosophy on care and the technology he uses are anchored in the 21st century.
A practicing dentist in Dover since 1972, Henderson opened Healthy Smiles 18 years ago. He keeps smiles bright and mouths healthy in part through the use of state-of-the-art CEREC technology, which allows him to restore teeth, replace crowns and place veneers in a single visit.
CEREC is an acronym for "chairside," "economical," "restorations," "esthetics" and "ceramic." The use of CEREC's CAD/CAM technology allows a trained dentist to design, create and place restorative dental work without the need for outside labs and extended waiting periods.
While CEREC technology has existed for 20 years and is becoming more common among New Hampshire dentists, Henderson is one of only 5,000 users in the country.
Recently Henderson, 61, left behind all technology to take part in a weeklong medical mission to Peru, where he extended care and delivered toothbrushes and toothpaste to residents of the Andes mountains.
---
Q. Where did your interest in dentistry come from?
A. My dentist became my mentor when I was growing up. He took an interest in me and made a pretty big impact on me because he was also the state chairman of the Miss Indiana pageant – at 16, that's quite a thing.
Q. What are the biggest changes you've observed since your early years as a dentist?
A. The biggest impact has come from changes in technology. It's everywhere, from computers and billing in the front office to the way we provide care.
As far as care goes, there are really two things — the intra-oral camera, which allows us to put images of our patients' mouths on a screen so our patients can really see and understand what we're talking about. When they see it, they tend to take it more seriously.
The other is this CEREC technology. That's really high-tech. It allows us to do conservative dentistry, to be proactive. We can take care of problems before they become really big problems. And we can do it in a much more proficient manner.
Q. Why is CEREC technology so revolutionary?
A. This technology allows us to perform more conservative dentistry in a more efficient manner. Take the need for a crown, for example. Traditionally, patients would come in for an hour and a half, we'd take an impression, fit them with a temporary for two weeks, send the impression to a lab across the country. Then they'd have to come in for a second visit, when we'd replace the temporary with the permanent crown. It was cumbersome and uncomfortable.
Now it's done by computer right in the office in one visit. We take a picture, the computer calculates the correct fit, that information is sent to the milling machine, which creates the crown or onlay in a matter of minutes. It's very fluid and works really well.
Q. Why aren't more dentists using the technology?
A. You'd think more people would be using it. First is cost. You're looking at a financial investment of about $100,000 for the technology. The second is the time. There is an extremely steep learning curve. I've been to numerous trainings in Detroit, New Jersey, Portland, Maine – all over. It takes a lot of time and energy to become proficient at using this technology.
Q. How has it been received by patients?
A. We have so many patients who just say "wow." Patients want to get in and get out as quickly as possible. This technology helps them do that. They're very pleased with it.
Q. What about cost to patients?
A. It's no more expensive. Even though the initial investment in the technology is very expensive, it balances out. There are no lab costs, and there's only one visit. Everybody benefits from it.
Q. You opted early in your career to focus on cosmetic dentistry as opposed to general dentistry – why?
A. My patients were asking for it. It's a lot more fun. General dentistry can get boring after a while. I like to look for ways I can improve. This new technology keeps me energized, keeps me interested.
Q. We're living in a society where cosmetic procedures of all kinds are becoming more commonplace. Many believe the industry has gotten out of hand – where do you see cosmetic dentistry falling here?
A. I think there are different ways to look at it. It's always nice to be able to enhance yourself. Our smile is so important – studies show our smiles are the first thing people look at. A nice smile dazzles. How can you fault someone who wants to enhance theirs? Today we're able to restore someone's smile to what it was when they were 18 or 20. Why not do it?
Q. What service did you provide while on the medical mission to Peru?
A. These people live in the Andes — we were at 10,000 feet. They're below Third World level. They're very isolated and have tremendous health problems. You'd ask 'which tooth hurts?' and they'd point to four or five different areas. It was suggested to us that we only work on one problem per patient because there were so many who needed our help. We had to triage their complaints. We'd have to take care of the biggest problem; sometimes we would try to address two or three things. They were so grateful for the care.
People in this community were so supportive. They donated a massive amount of toothbrushes and toothpaste for me to bring.
Q. What kind of impact did this trip have on you?
A. We're pathetically abundant here. People are always complaining about what they don't have, and we take so much for granted. The trip really re-emphasized how lucky we are.
Q. Will you be making more trips?
A. I'd like to. But next time I'd like to go somewhere that didn't require as much travel. Of the eight days, I was only able to do dentistry for three. The other five days we were traveling, gathering supplies or setting up our operation. I will go on another mission. There are so many places that need our help. I'd like to go somewhere where we can spend a solid five days or more doing what we made the trip to do.