Q&A with: Compaq Big Band leader Al Saloky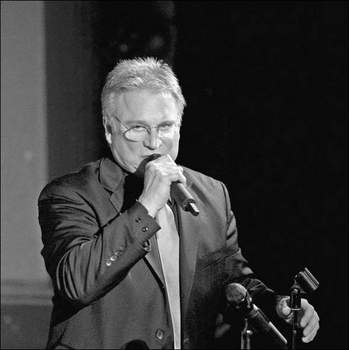 In 1975, Al Saloky was an engineer at Digital Equipment Corp., which was tucked into an old woolen mill in Maynard, Mass. The high-tech manufacturer was hitting its stride churning out refrigerator-sized computers, and employees needed extra-curricular diversions to release some of the pressure from go-go design schedules.
With a love of big band music and more than just knowing his way around an alto sax, Saloky signed up and became the lead sax.
The employees who made up what was then called DEC Big Band first played at company functions, then community concerts and other gigs soon followed.
After DEC was acquired by Compaq in June 1998, the band's name was changed. After Compaq itself then merged with Hewlett-Packard in May 2002, some members left due to lay offs, transfers or personal reasons. About 12 years ago, the bandleader left, and Saloky traded in his sax for a baton.
Today the 54-year-old Saloky is an engineer at information management provider EMC Corp. in Hopkinton, Mass., and leads Compaq Big Band's 19 members, half of whom are former DEC, Compaq or HP alumni, with the others being musicians from around the greater Boston area. The band also has a full-time vocalist, sound technician and librarian.
The Compaq Big Band plays concerts as far north as Concord and Portsmouth in New Hampshire to Cape Cod. You'll be just as likely to see them perform at a nonprofit organization's black-tie gala as you will at a small jazz club or even a community band shell.
With a tour of England under their belts and a CD that receives regular air time on the United Kingdom's BBC2 radio, Saloky said the band's goals continue to be modest, playing gigs in New England to accommodate the musicians' lives and day jobs.
Q. Give me the history of the Compaq Big Band in a nutshell.
A. I'm really dating myself, but one day there was this mimeograph tacked up on the bulletin board at DEC asking those interested in forming a swing band or a big band group to meet at certain place and time. DEC was really growing then, and there were many employee clubs being formed.
For many years, it was comprised of 100 percent employees and started just as a rehearsal band. We'd play when DEC opened up a new facility or when somebody retired. Then we played a couple of community concerts. It then opened up from there.
It remained an employee group until the "dark times," when DEC got bought up. The layoffs came, and people came and went. Over time it migrated from 100 percent employees or alumni of DEC, Compaq and HP to a mix of other musicians in the Boston area. By that I mean from Portsmouth to as far as Cape Cod.
Q. So you've been with the group since its start?
A. I'm the only charter member left. I started playing alto sax and was the lead sax for 20 years. I became leader 12 years ago. I don't really play any more. I understood early on that if I did both, I'd screw both up royally.
Q. What is your role as leader?
A. In addition to conducting the group during rehearsals and performances, I coordinate the sound, reorder the music during a show if there's a delay, organize the gigs. My head just wouldn't be in playing if I were trying to do both.
Q. Who's in the band now?
A. We have about 21 people when we do a gig. The youngest is about 27 and the oldest is retired, but well-preserved, as he says. The average age is about mid- to late-30s. Some have been with the band for 10 or 12 years.
They all have day jobs, and none are in music. The instrumentalists really come from all walks of life. We have one guy who's a non-practicing M.D. with his own biotech firm, we have an advisor to the Putman portfolio, another who does international marketing and another who's a housepainter. We call the band a 'passionate hobby.'
cQ. What types of gigs do you play?
A. We do a lot of swing dances, obviously and jazz clubs, but we work with a lot of civic and nonprofit organizations. Many times, we do their black-tie fund-raisers. We do jazz festivals, like up in Prescott Park in Portsmouth. We may do the Montreal Jazz Festival sometime. We also play smaller venues like Greeley Park in Nashua and Abbie Griffin Park in Merrimack. We'll also do an occasional wedding or corporate event.
Q. The band is actually a nonprofit organization. Tell me about its operating philosophy.
A. Well, somewhere along the way people started paying for us to perform and we had to start thinking about how we were going to report that.
I did some research, and it ended up being cheaper to do business in New Hampshire. We're actually a nonprofit corporation in New Hampshire. We're not a (c)(3) — we don't do charity work, but a (c)(4). It simplified the tax reporting.
We make about $1,200 to $1,500 a gig. That ends up being like $20 a head, or gas money, as we used to call it. Only now, it doesn't really even cover gas. Any money left over goes into a fund for music or equipment, T-shirts, ties, accountant's fees. When you only make $1,200 or $1,500 a gig, it gets eaten up pretty quickly. Nobody's getting rich at this.
Q. When people hear the phrase "big band," many assume you only play Glenn Miller, but the group has a pretty big repertoire.
A. We have a library of about 2,000 titles. We do play Glenn Miller, Artie Shaw and Jimmy Dorsey — you wouldn't have so much of our music today without them — but there are great things from the '60s and '70s, like Sinatra and Bobby Darin. There's a lot of good Latin music, too. It's not just the golden generation stuff.
Q. Where is the group going?
A. I think we'll always be looking to do higher-profile things and get more exposure in the media, more word of mouth, to continue to fund the things we already do. Most of the guys say we're gigging enough now.
We also really have to run this like a business, and that takes money. Money for many arts-based groups to just tread water is very difficult. Some have gone under. It's a challenge to see where it goes. You have to be innovative, or you're dead in the water.